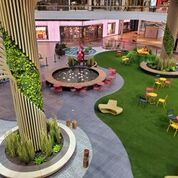 We have a unique vision for the future of retail real estate – and the skills and resources to turn it into reality.
DALLAS (PRWEB) December 03, 2019
Centennial Announces Plans to Expand Its Retail Real Estate Portfolio
Real Estate Investment Firm, Poised for Growth, Shares Recent Success Stories
Centennial, a real estate investment firm with a national portfolio of shopping, dining, entertainment and mixed-use destinations, announced today it is poised for growth and plans to expand its retail portfolio in the near future. The firm has spent the last two decades building the infrastructure and honing a repeatable "formula" for retail success that has allowed Centennial to effectively transform outdated regional retail real estate assets into dynamic and thriving shopping, dining and entertainment destinations. With numerous examples of the formula's success under its belt, Centennial also announced it has added new executive personnel, reached an agreement to bring a new movie theater to two shopping centers, signed strategic new leases throughout its portfolio, and completed several significant and industry-leading placemaking projects. To learn more, visit Centennial at booth 1887 during the ICSC New York Deal Making Conference December 10-12 at the Javits Center.
"At Centennial, we've built a fully-integrated national platform committed to delivering modern community-centric destinations for the next generation," says Steven Levin, Centennial's CEO. "We're well capitalized, poised for growth, and leading the industry with a unique vision that allows us to realize the full potential of each property we acquire and re-imagine."
Leadership & Growth
To prepare for future expansion, Centennial recently appointed Carl Tash to the newly created position of Chief Investment Officer. Tash, who has a background in value-oriented REIT and real estate equity investments, will oversee all of Centennial's investment activities and growth strategies, including capital markets, investor relations and fund management. Tash will also be instrumental in contributing to Centennial's expansion plan, which includes the near-term goal of adding several new assets to the company's retail real estate portfolio.
"It's an exciting time in the retail real estate investment business," Tash says. "I am honored to have joined a highly regarded firm like Centennial that executes unique placemaking and mixed-use densification ideas at its own properties. These great plans have applicability to the industry as a whole."
Placemaking Expertise
The Centennial team has a comprehensive understanding of local, regional and national market and industry trends that yields transformational roadmaps for each of its properties and includes strategic merchandising plans, an experience blueprint, innovative experiential marketing, and customized placemaking solutions.
"One of the reasons Centennial is being jettisoned into the spotlight as a growing national player in the shopping center industry is because we have a unique vision for the future of retail real estate – and the skills and resources to turn that vision into reality," says Whitney Livingston, COO for Centennial.
Using a very disciplined and proven formula for success, Centennial repurposes and reimagines underperforming shopping center spaces. By adding new experiential entertainment, dining and retail attractions, the firm creates dominant mixed-use destinations with innovative gathering spaces that increase both visitor frequency and density while turning the mall into a third-place, home-away-from-home.
Case Study: At Chicago-area Hawthorn Mall and Fox Valley Mall, Centennial used its visionary placemaking expertise to transform the under-utilized Center Court space in each shopping center into vibrant "Center Park" gathering places that artfully combine green and hardscaped designs with incredible aesthetic appeal to encourage year-round usability. Soon to be ringed by restaurants and entertainment options, visitors will think of these indoor parks as true destinations for their off time, completely distinct and separate from mere resting places at a shopping center. For photographs of the creative new spaces, to be unveiled at each center during the Thanksgiving/Black Friday weekend, click HERE for Hawthorn Mall and HERE for Fox Valley Mall.
Case Study: Centennial also modernized the traditional Santa visit when it recently unveiled a series of four newly designed holiday experiences inspired by three beloved Warner Bros. films and the popular book "The Elf on the Shelf: A Christmas Tradition." The new and very immersive 2019 holiday experiences combine rich storytelling brought to life using augmented reality technology and theatrical-quality set designs to engage and entertain guests as they wait to meet Santa Claus. The sets, unveiled at four Centennial shopping centers in mid-November, include Hawthorn Mall's "The Elf on the Shelf: Santa's Magical Photo Adventure", MainPlace Mall's "A Christmas Story" set, Vancouver Mall's "The Polar Express" set and Connecticut Post Mall's "Elf" set. Centennial also announced plans to tour each of these new holiday experiences among its properties to provide guests with an exciting new encounter year after year. Photos of each of these new experiential journey-to-Santa sets can be downloaded here: http://ow.ly/k7vW30pWoOa.
Significant Leasing Initiatives
Centennial's formula for success includes an important shift away from the "norm" in traditional shopping center leasing initiatives, with a new focus on experiential entertainment tenants and the combination of well-known brands alongside local entrepreneurs. This strategy has been validated by a number of significant new tenant agreements, including the experiential flagship KidZania location planned for MainPlace Mall, the new regionally exclusive Comedy Shrine coming to Fox Valley Mall, and the soon-to-be-announced new movie theaters planned for two of its projects as well as a host of other national, regional and local tenants throughout the firm's portfolio.
In a unique move, by tapping into the popularity of the "buy local" movement, Centennial has also artfully paired emerging local and regional brands with beloved national tenants to create a new kind of shopping experience. By adding creative placemaking concepts like the new Center Park spaces, Centennial is changing the way consumers interact with the American shopping center, delivering an updated "downtown" shopping experience re-crafted for today's modern age.
Case Study - Hawthorn Mall: The addition of local tenants like the new 60 & 21 Café and Wine Bar in the Hawthorn Mall Center Park add to the "downtown" feel Centennial is working to create. This local coffee roaster offers patrons a place to grab a cup of joe or glass of wine, as well as the opportunity to sit in the mall's beautiful indoor park to enjoy it. When friends and families congregate in the new Center Park, they want a relationship with the vendors they encounter, and local tenants like 60 & 21 give them just that.
Case Study – Fox Valley Mall: Changes such as the addition of the new Center Park gathering space at Fox Valley Mall have caught the attention of major national retail brands, sparking the return of Charlotte Russe, which had vacated its long-term space at the shopping center earlier this year. A second national tenant is expected to return as well, and the mall recently announced an agreement with Comedy Shrine, Chicagoland's premier improv and stand-up comedy theater. To deliver a "hometown" feel, the center has also partnered with a number of local entrepreneurs including unique dining concepts like the gourmet Pee Bee & Jays Cafe to date-night favorites like Pinot's Palette Pop-Up, each providing a desirable local connection that is being warmly embraced by the mall's target market.
The Formula in Action
"MainPlace Mall may provide one of the best examples of Centennial's re-development and placemaking expertise," says Oliver Robinson, Executive Vice President of Development for Centennial. "MainPlace is in the midst of a major multi-phase redevelopment that will turn the property into a master-planned live-work-play-shop-dine-entertain destination. While we're still in the early stages of the redevelopment, we're already seeing significant successes in development as well as important new tenant agreements."
Case Study - MainPlace Mall: Changes currently underway at MainPlace include the addition of a 100,000-square-foot three-level food, art and entertainment emporium with an outdoor rooftop terrace and large, active outdoor plaza that will serve as the "hello moment" for this new attraction. As part of the new emporium – which will house dozens of fast-casual food concepts, four full-service restaurants and bars, and a high-impact retailer – Centennial is also planning to add a flagship movie theater. Additionally, earlier this year, Centennial announced an agreement to bring the internationally acclaimed, interactive, kid-sized KidZania city to MainPlace Mall. The new 95,000+-square-foot KidZania, expected to open at MainPlace in 2022, will be the entertainment giant's flagship location in the United States as well as its first-ever location on the West Coast. In preparation for the changes, demolition is slated to begin in Q1 2020, and construction will begin by Q3 2020. Renderings of the changes, including the new MainPlace emporium, are available here: http://ow.ly/kWBM30pUS5M.
"Vision without execution is just a dream," says Steve Weiss, Senior Executive Vice President of Real Estate for Centennial. "The thing that sets Centennial apart from others in this space is our ability to successfully execute the transformative vision our team has so carefully and thoughtfully curated – a differentiator which absolutely puts us ahead of the curve in retail real estate re-development. At Centennial, we've developed a formula for success … and it works."
About Centennial
Centennial is a national owner of major shopping, dining, entertainment and mixed-use destinations. Rooted in retail since 1997, the company is focused on shaping the evolution of American retail by creating a superior multi-faceted shopping experience. Centennial properties serve not only as a place of commerce, but a place of community. For more information, visit CentennialREC.com.
Media Contacts:
Deborah Blackford
Blackford & Associates
blkfrd@earthlink.net
714-280-8765
Karen Franse
Blackford & Associates
karenfranse@gmail.com
386-649-1887
Carmen Herlihy
Blackford & Associates
cherlihypr@gmail.com
646-770-2623