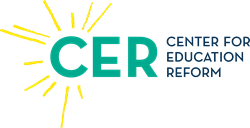 "As our organization turns 25, we see an abundance of opportunities on the horizon, and we are ready to charge forward into our next quarter century recharged, renewed, and ready to continue fighting for the reforms our schoolkids so desperately need."
WASHINGTON (PRWEB) September 20, 2018
The Center for Education Reform, an organization that has pushed the boundaries toward achieving educational excellence since 1993, will be hosting its 25th Anniversary celebration next month in Miami, Fla. The event will feature a full day of panels and presentations by leaders in the education reform movement, covering a wide variety of topics in the world of K-12, higher education, apprenticeship, and other education policies.
"For 25 years, CER has been a brand name and a recognized leader in bridging the gap between policy and practice to achieve excellence in education," said Jeanne Allen, founder and CEO of the Center for Education Reform. "We've taken on the biggest anti-change organizations in the country and have been relentless in our pursuit of school choice and expanding opportunity for all students."
"Today, we can definitively say that we have left our footprint on the educational landscape and it is better because of the work that we've done," Allen continued. "But we aren't done yet. As our organization turns 25, we see an abundance of opportunities on the horizon, and we are ready to charge forward into our next quarter century recharged, renewed, and ready to continue fighting for the reforms our schoolkids so desperately need."
For more information, please visit https://www.edreform.com/cer-25th-anniversary/.
During the all-day event, Governor Jeb Bush will anchor the Silver Fox Luncheon and participate in a fireside chat titled "Education Reimagined." Other sessions include:

The New University is Disruptive, Innovative, and…?
Spotlight: The Modern School is Personalized, Global, and…?
How Far Are We On the Road to Innovation and What Else Do We Need to Do?
The New University is also Career Connected, Data Driven, and…?
EdInnovation is Here to Stay
What is Next for National Policy?
At the event, eight national leaders in education policy will also be honored, including Jon Hage, CEO, Charter Schools USA; J.C. Huizenga, Founder, National Heritage Academies; Brian Jones, President, Strayer Education; Lisa Graham Keegan, CEO, Arizona Chamber Foundation; Joe Nathan, Director, Center for School Change; Deborah Quazzo, Co-Founder and Managing Partner, CSV; Tommy Thompson, Senior Fellow, Bipartisan Policy Center and Former Governor of Wisconsin; and Fernando Zulueta, President, ACADEMICA.
Media interested in attending the summit should contact Andrew Ricci (andrew@ricconstrategic.com).
About the Center for Education Reform
CER started in 1993 with a simple premise—to achieve excellence in education. The first laws supporting charter schools, school choice offerings and even state standards were owing to CER's leadership.
By 2016, it had become increasingly clear that the laudable goals of the education reforms we helped to achieve—providing for more and better options for students and families, higher standards and teacher quality initiatives—was simply not enough for the millions of Americans at all levels lacking access to relevant, rigorous and ready-access education.
While our ideas, our schools, our policies helped to reform most systems, it was not and is still not enough. Thus in 2016 we sought to redefine the efforts we lead, expanding our focus to ensure that we create every opportunity possible to expose learners at all levels, from K through Career, to the best innovations America can provide, a goal we know from our history is boundless.