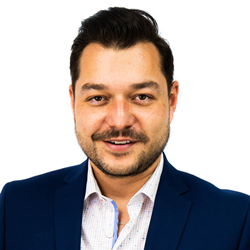 "I wanted to build my business, but I also wanted to prioritize client care, as that is what's most important to me as an agent. Side's state-of-the-art marketing, technology, administrative, and legal services give Center Real Estate the capacity to grow while remaining focused on our customers."
EL PASO, Texas (PRWEB) October 14, 2020
Center Real Estate today announced its partnership with Side, the only real estate brokerage that exclusively partners with high-performing agents, teams, and independent brokerages to transform them into boutique brands and businesses. The alliance will ensure that Center Real Estate is powered by the most advanced platform in the industry.
Center Real Estate was founded by Luis Carlos Perez, who has a city-wide reputation for offering a singular service. Perez sits on the local chapter of the board of directors for the National Association of Hispanic Real Estate Professionals, and has always taken great pride in offering a community-focused, inclusive service. He emphasizes turning client relationships into friendships, which remains at the heart of Center Real Estate's offering. The firm specializes in commercial and residential real estate throughout Greater El Paso, Texas.
Partnering with Side will ensure Center Real Estate remains at the cutting edge of the evolving real estate market while allowing its agents to continue delivering premium services to their clients. Center Real Estate agents are fully supported by a one-of-a-kind premium brokerage platform, which provides transaction management, property marketing, lead generation, business growth opportunities, vendor management, and infrastructure solutions.
"I wanted to build my business, but I also wanted to prioritize client care, as that is what's most important to me as an agent," Perez said. "Side's state-of-the-art marketing, technology, administrative, and legal services give Center Real Estate the capacity to grow while remaining focused on our customers."
Side is led by experienced industry professionals and world-class engineers who develop technology designed to improve agent productivity and enhance the client experience. Based on its belief that homeownership is a fundamental human right, Side is on a mission to improve the public good by providing top-performing real estate agents, teams, and indie brokerages with the best system, support, service, experience, and results.
About Center Real Estate
At Center Real Estate, real estate isn't just a transaction; it's an experience. The effective, caring professionals at Center Real Estate make it their mission to provide a listening ear and look out for their clients' best interests, the way that a best friend would. Like El Paso itself, Center Real Estate aims to be a place people come back to. Its agents offer first-rate service, guidance, trustworthiness, opportunity, and friendship that's built to last. To learn more, visit http://www.center-realestate.com.
About Side
Side transforms high-performing agents, teams, and independent brokerages into successful businesses and boutique brands that are 100% agent-owned. Side exclusively partners with the best agents, empowering them with proprietary technology and a premier support team so they can be more productive, grow their business, and focus on serving their clients. Side is headquartered in San Francisco. For more information, visit http://www.sideinc.com.