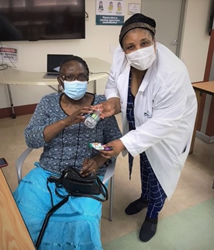 We love our participants and miss having them at our sites. We serve vulnerable, medically-complex New Yorkers, so ensuring that they are vaccinated is an important first step towards safely re-opening our centers.
NEW YORK (PRWEB) June 10, 2021
CenterLight Health System, which operates Teamcare, New York's largest Program of All-inclusive Care for the Elderly (PACE), held a series of COVID-19 vaccination clinics for its participants across the New York metropolitan area.
The events provided approximately 200 CenterLight participants with COVID-19 vaccinations in a celebratory atmosphere, which included music, as well as a take home gift of fresh fruit, courtesy of The Friends of CenterLight Foundation.
The series kicked off on March 29 at its Grand Street Center in Manhattan and continued on April 23, at its Allerton Center in the Bronx. CenterLight's Brooklyn-based participants were served at a clinic that took place at the organization's Rockaway Parkway site on May 26.
CenterLight's Pandemic Response
In March 2020, when COVID-19 first struck New York, CenterLight was forced to close its centers to all activities except medical care. Since then, the company, which operates one of the oldest PACE programs in nation, has pivoted its programming in a myriad of ways to help engage participants who continue to remain in isolation. This includes the establishment of a food pantry to support participants who have become food insecure as a result of the pandemic, as well as the launch of virtual recreational and educational programming on Facebook Live. Free, and open to the public, this programming is available at http://www.facebook.com/centerlighthealthsystem.
"We love our participants and miss having them at our sites," says Tara Buonocore-Rut, President and Chief Executive Officer of CenterLight Health System. "We serve vulnerable, medically-complex New Yorkers, so ensuring that they are vaccinated is an important first step towards safely re-opening our centers. There, they can more fully enjoy the benefits of PACE, including nutritious, on-site meals, clinical oversight, recreational activities, creative expression, social connection and friendship."
"Getting the vaccine is safe, effective and the best defense against the virus and we urge all of our participants to receive it," continues Buonocore-Rut. Nevertheless, she adds, CenterLight will continue to follow strict screening, testing, mask-wearing, social distancing and quarantining when necessary for all our staff and participants, in accordance with the latest CDC guidelines.
"You feel free," says CenterLight Teamcare participant Nilda Lugo, who lives in the Bronx and encourages her friends to receive the vaccine. "As soon as you put your mask on and you know you got vaccinated, you're free. I go shopping and I know I am protected. I'm not going to be worried because I took care of myself and everyone else that's around me."
About CenterLight's Interdisciplinary Care Model
Each day, CenterLight delivers highly-personalized, culturally-sensitive care to thousands of dual eligible (Medicare and/or Medicaid) New Yorkers who need community-based, long-term care services and supports in the home and/or a PACE/ ADHA or an Alternative Care Site (ACS). This care is provided via the combined talents and expertise of its Interdisciplinary Team (IDT), which includes, but is not limited to a doctor, nurse, physical therapist, nutritionist, recreational therapist and other professionals, as needed.
A Commitment to COVID-19 Education & Support
Since the start of the pandemic, CenterLight has been committed to helping participants understand and remain safe through an unprecedented public health threat. To that end, the organization drew on internal expertise to create a colorful, easy-to-understand education pamphlet to help keep participants informed and dispel common misconceptions surrounding the Coronavirus. This piece was translated into multiple languages and was included in a care package to participants.
CenterLight additionally encourages vaccinations via continued COVID-19 education for its participants, caregivers, staff and home health aides.
About PACE
PACE is an integrated plan that covers Medicare, Medicaid, prescription OTC drugs and community-based long-term care services and supports in the home and/or at a PACE site – all with one ID card, along with a robust OTC benefit. PACE was established as a care model in the early 1970s, to address the long-term care needs of immigrant communities in the San Francisco area. Today, PACE operates in 31 states and has been shown to help decrease avoidable hospitalizations, comorbidities and emergency room visits, as well as increase longevity. CenterLight Teamcare is New York's largest PACE plan.
About Friends of CenterLight
The Friends of CenterLight Foundation is a 501(c)(3) charity dedicated to improving the lives of CenterLight participants by helping them to maintain their health, well-being and autonomy in environments that honor their individual needs, values and preferences. Learn more at http://www.centerlight.org/foundation.
About CenterLight Teamcare
CenterLight Teamcare, a program of CenterLight Healthcare, operates 14 locations throughout New York City, Westchester and Nassau/Suffolk Counties and empowers older adults to continue to live independently, at home and in their communities. Providing culturally sensitive care to thousands of New Yorkers daily, CenterLight staff speaks 26+ languages and dialects, including Arabic, Albanian, Chinese (Mandarin, Cantonese), Creole, English, Korean, South Asian (Hindi, Punjabi, Bengali), Russian, Spanish, and more. CenterLight Teamcare develops individualized care plans, which are carried out by a dedicated interdisciplinary team (IDT) of doctors, nurses, physical therapists, nutritionists, recreational therapists and other professionals working in concert to provide care as unique as the richly diverse participants enrolled in the plan. Learn more at http://www.centerlighthealthcare.org.