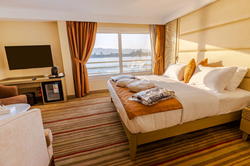 Our revolutionary new 5-Star Deluxe Nile Cruise ship HS Nebu, features unparalleled modernity with traditionally inspired touches that transport guests both literally and figuratively to the lands of ancient pharaohs, golden-clad tombs, and legendary pyramids – all while sailing in the lap of luxury
MOONACHIE, N.J. (PRWEB) November 17, 2021
Central Holidays together with its parent company Sakkara Group International (SGI) are announcing the debut of their newest, ultra-luxe Nile River cruise ship – HS Nebu, bringing their fleet to 11 vessels, and raising the bar in Nile River cruising.
"We are thrilled to demonstrate our commitment to travel in Egypt and to the US travel market with this investment that that sets a new standard of luxury in Nile River cruising," said Baher Ghabbour, Chairman and CEO of Sakkara Group International. "We invite everyone to come experience the ultimate dream vacation in Egypt with Central Holidays sailing onboard our newest 5-Star Deluxe Nile Cruise ship HS Nebu. Building on our legacy on the Nile nearly 50 years strong, our revolutionary new river cruise vessel features unparalleled modernity with traditionally inspired touches that transport guests both literally and figuratively to the lands of ancient pharaohs, golden-clad tombs, and legendary pyramids – all while sailing in the lap of luxury."
HS Nebu entered service with its initial sailing on October 2, 2021. The new vessel is specifically designed for the North American market, brimming with amazing features and amenities for guests' supreme comfort and convenience, including spacious staterooms with French balconies and plush linens, the highest safety standards, Wi-Fi, and much more. The ship features a diverse choice of exquisite dining options, including the Main Dining Room, Lounge Bar, Sundeck, and a live chef station. Plus, while onboard travelers can enjoy the outdoor swimming pool with bar service available to indulge requests. Wellness takes center stage as Nebu showcases the largest Spa on the River Nile, as well as a well-equipped fitness center.
The new 5-star vessel features 40 suites in four classes, and all of Nebu's cabins are the largest in their respective categories on the Nile River. The 33 standard suites are each 301 square feet, approximately 100 square feet larger than other ships, and include a French balcony. There are two executive suites onboard, each with a cabin size of 452 square feet and each with a French balcony. Additionally, there are four single suites, each with a cabin size of 205 square feet. The one Owner's Suite measures 764 square feet and offers a full balcony.
"HS Nebu presents the ultimate 5-Star Deluxe Nile Cruise just waiting to be enjoyed," said Tewfik Ghattas, Board Member of SGI. "At Central Holidays, we're proud to share our insight into Egypt with you in everything we do. Since 1972, we've taken travelers to experience the mystifying sights, vibrant sounds, and endless delights of Egypt. This expertise translates into the very most authentically rich experiences of a lifetime for travel advisors and their clients as they sail with us onboard Nebu and in each fascinating port along the way."
"Further to the launch of Nebu, Central Holidays is also pleased to announce the expansion of its dedicated travel industry Sales team with the addition of Egypt travel specialist and Egypt native, Mayye Osman as the new Manager - Egypt Product Development and Destination Specialist for Central Holidays," continued Ghattas.
"It is an extremely exciting time to be part of this expansion into Egypt as travelers look forward to heading out on the travel adventures of their lives after the past year-and-a-half pent up," said Osman. "Our Nebu cruise itineraries allow travelers to become part of the culture, history, ambiance, and everyday life of each place visited. Whether opting for a 3, 4, or 7-day sailing, travelers will revel in a meticulously planned cruise and land vacation in Egypt, an in-depth destination experience, all of our advanced safety and cleanliness protocols, the best service, and an unsurpassed insider's perspective when they travel with Central Holidays!"
For additional details on HS Nebu or on Cruise and Land itineraries offered onboard the new luxury ship, contact Central Holidays at 1-800-935-5000 or visit centralholidays.com.
About Central Holidays:
Founded in 1972, Central Holidays is an award-winning travel brand that offers superior travel programs, value, and service to enchanting destinations across Italy, Europe, Egypt, Africa, West Asia, and Latin America. As true destination specialists, this leader in travel offers an expansive range of Independent, Escorted, Hosted, and Land/Cruise itineraries. Central Holidays presents a wide array of diverse travel opportunities including cultural programs, culinary adventures, family vacations, romantic getaways, and active travel. Group Travel Experiences are a hallmark of the company, offering special interest travel, religious pilgrimages, and fully customized programs. Their newest brand, Journeys by Central Holidays, was created to orchestrate tailor-made travel experiences that redefine luxury. Central Holidays remains at the forefront of the tourism and travel industry, offering distinctive travel programs that support brand promises of reliability, expertise, and flexibility. For more information, contact Central Holidays at 1-800-935-5000 or visit centralholidays.com.