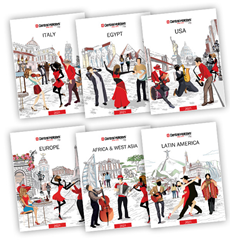 Our fresh travel brochure offerings feature mindful itineraries that not only respect and follow health and safety protocols, but are also conscious, observant, and respectful of the location, natural environment, local communities, and travelers' needs
MOONACHIE, N.J. (PRWEB) February 17, 2021
Central Holidays today announced the debut of its 2021 brochures showcasing Egypt, Italy, Europe, Latin America, Africa and West Asia. Further, in line with research studies being unveiled that signal the desire of many U.S. travelers to vacation more domestically, Central Holidays is introducing a new handcrafted collection of unique USA Travel Programs. All new brochures are conveniently accessible online at via the company's website at centralholidays.com/BROCHURE, and programs are fully customizable to meet the preferences of individual travelers and groups.
"Throughout our longstanding history, Central Holidays has affronted and triumphed over many challenges presented to the travel industry. We have emerged every time smarter and stronger thanks to an experienced and committed leadership. Our company is indeed fortunate to be part of an industry leader, Sakkara Group International (SGI)," said Tewfik Ghattas, SGI Board Member. Established in 1972, Sakkara Group International enjoys more than 45 time-honored years of success in Hospitality, Travel, and Tourism – equating to more than four decades of experience, insight, skills, and knowledge that continue to drive our positive growth.
"Each travel program included in this just-released range of brochures is purposefully designed by our destination specialist Product Managers: Maria José Merino who serves as Vice President of Operations for Central Holidays; Adam Gries, who leads the Group Travel Experiences by Central Holidays brand as Director; and Marco Evangelista, who continues driving growth at Journeys by Central Holidays, the company's bespoke brand of tailor-made travel experiences that redefine luxury," continued Ghattas.
New for 2021:
Diversification of Central Holidays' portfolio continues on pace. As a customer-driven company, Central Holidays continues to evolve its travel products to cater to the demand from its loyal clientele. With this in mind, Central Holidays has launched of a whole new and exciting collection of unique travel experiences across the USA.
"Our USA product portfolio was developed with the ultimate goal of offering our travel advisor partners and their clients a mix of popular programs as well as exclusive vacation experiences in the destinations that they wish to explore now," said Ghattas. "This thoughtful style of product development is what has always set us apart from other travel companies since our founding in 1972. In keeping with Central Holidays' philosophy of always thinking 'outside of the box' – we created an ultra-distinctive selection of unique programs that are brimming with special experiences for travelers to cherish."
New programs in the just-released USA brochure include culinary and wine traditions, National Parks programs, wildlife experiences, the thrill of amusement parks, beach travel, and more.
As always, Central Holidays offers a variety of itineraries in Egypt; Italy; Europe, featuring Greece, France, Malta, Spain, Portugal, & Croatia; Latin America; and Africa and West Asia, including Israel, Eastern & Southern Africa, the UAE, Jordan, & Oman. In these destinations, the company has updated its range of travel opportunities to include more small group programs as well as more outdoor offerings and private experiences.
"Our fresh travel brochure offerings feature mindful itineraries that not only respect and follow health and safety protocols, but are also conscious, observant, and respectful of the location, natural environment, local communities, and travelers' needs," said Ghattas.
Central Holidays' brochure programs are all sample starting points and open to the customization and enhancements that the brand's clients and travelers are seeking today.
"Our strength rests on our personalized and dedicated attention to our clients' needs and wishes," said Ghattas. "The values that Central Holidays embodies continue to shine in our exemplary client service, destination expertise, and our meticulously planned, affordable-luxury travel packages."
To view or download Central Holidays' new collection of brochures, visit centralholidays.com/BROCHURE.
About Central Holidays:
Founded in 1972, Central Holidays is an award-winning travel brand that offers superior travel programs, value, and service to enchanting destinations across Italy, Europe, Egypt, Africa, West Asia, and Latin America. As true destination specialists, this leader in travel offers an expansive range of Independent, Escorted, Hosted, and Land/Cruise itineraries. Central Holidays presents a wide array of diverse travel opportunities including cultural programs, culinary adventures, family vacations, romantic getaways, and active travel. Group Travel Experiences are a hallmark of the company, offering special interest travel, religious pilgrimages, and fully customized programs. Their newest brand, Journeys by Central Holidays, was created to orchestrate tailor-made travel experiences that redefine luxury. Central Holidays remains at the forefront of the tourism and travel industry, offering distinctive travel programs that support brand promises of reliability, expertise, and flexibility. For more information, contact Central Holidays at 1-800-935-5000 or visit centralholidays.com.