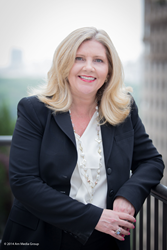 With a remarkable background featuring both operational leadership and sales and marketing expertise... Holly brought her unique experiences to bear in establishing a compelling identity and service.
New York, NY (PRWEB) June 27, 2014
Holly Waterbor-Breuche is General Manager of the newly opened Quin hotel, located at 57th Street and Sixth Avenue. HSMAI's General Manager of the Year Award is presented annually to "an outstanding industry leader who demonstrates the highest levels of professionalism." The award was announced at the 21st Annual Frank W. Berkman Tourism Achievement Award Dinner in New York City on June 16, 2014.
With a remarkable background featuring both operational leadership and sales and marketing expertise, including opening six luxury hotels in the New York market, Holly brought her unique experiences to bear in establishing a compelling identity and service ethic for the Quin. Since her appointment as General Manager during the Quin's pre-opening phase in 2012, through the hotel's recent launch and highly successful first year, Holly Waterbor-Breuche has quickly established the Quin as one of the city's most in-demand luxury lifestyle hotels. She has directed development of the hotel's Quin Arts program, assembled an industry-leading team of service professionals, and established the hotel's renowned attaché service for guests.
Under Holly's leadership the Quin has garnered an unprecedented range of accolades for a new hotel, including recognition on Travel & Leisure's "It List," for 2014; Travel Agent Magazine's global "Hot New Hotels List" for 2014; Travel & Leisure's "World's Greatest Hotels" list for 2014; Fodor's 2014 list of "New York City's Best New Hotels"; as a finalist the upcoming LE Miami Awards for "Most Creative Collaboration," honoring the Quin Arts program; and a 2014 Certificate of Excellence from TripAdvisor, based on positive guest reviews.
Waterbor-Breuche has more than 25 years of hospitality industry experience, including local, regional and national roles. She began her career at the prestigious Plaza Hotel and later served at The Waldorf-Astoria. She went on to become Associate Director of Sales at Hyatt Hotels where she directed a portfolio of over 150 properties. Holly has served as Regional Director of Marketing for Morgan's Hotel Group and as Hotel Manager and General Manager of hotels throughout the Greater New York region, including both the Omni Berkshire Place and The Benjamin Hotel in New York City. She has been integrally involved in the opening of numerous New York City hotels, including The Royalton, The New York Palace, and The Setai Fifth Avenue. In addition, Waterbor-Breuche served as Chief Executive Officer of Point Blank Consultancy for nearly three years, an influential consultancy she founded in 2008.
"Holly is a consummate professional and we're so pleased to see her recognized for her leadership at the Quin," said Alan Kanders, Principal at Three Wall Capital, the ownership group of the hotel. "She has forged key partnerships that link the Quin to the heart of New York's cultural landscape and has created a guest experience that's second to none."
Waterbor-Breuche earned her Bachelor of Science in Hotel and Restaurant Management from the University of Southern New Hampshire. She is a member of the Waldorf-Astoria Distinguished Alumni Association and has served as Chairman of the Educational Committee of the Hotel Association of New York City and as a Board Member and Vice Chairman of the Foundation Board of HSMAI International. She is also a past President of HSMAI's New York Chapter, which earned the International Chapter of the Year Award under her leadership. She was recently appointed as Chair of Highgate Hotels' General Managers Advisory Board Committee. Holly has earned prior accolades including US Director of the Year, Omni Hotels. Waterbor-Breuche is also Executive Director of The Waterbor Burn and Cancer Foundation in Sea Girt, New Jersey.
About The Quin
The Quin - A Central Park Hotel, is New York City's newest luxury lifestyle hotel and is located on the corner of 57th Street and 6th Avenue. At the intersection of art, music, and fashion, its privileged Midtown location provides effortless access to Lincoln Center, Carnegie Hall, The Museum of Modern Art, and Fifth Avenue couture. The Quin melds modern opulence with its rich artistic heritage in each of its 208 thoughtfully appointed guest rooms including 28 suites. Guests relish in urbane and intelligent services, from the Attaché, who curate a guest's New York experience, to distinguished amenities like an Executive Boardroom for 10, state-of-the-art Technogym fitness center, Apple equipped drawing room, Dux® beds by Duxiana®, Fresh® Spa Products, and a 2-story, 130-seat artisanal American seafood grill, The Wayfarer, showcasing a menu of fresh regional seafood.
Quin Arts is an interactive arts program that celebrates the property's rich artistic heritage and produces exciting new platforms for contemporary artists. Renowned architecture and interior design firm, Perkins Eastman, has transposed a contemporary masterpiece on the classical foundation that was once home to cultural icons like pianist Ignacy Jan Paderewski and artist Georgia O'Keeffe. Resonating with refined repose, the Quin is the Quintessential Central Park Hotel.
Visit the Quin Website >.
View the Quin's current offers >.