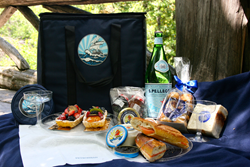 The newly opened Quin hotel - a Central Park Hotel, is located just 2 blocks from Central Park at 57th and Sixth Avenue, is offering a luxurious take on this classic New York outing for its guests, with an exclusive 'Petrossian Picnic in Central Park.'
New York, NY (PRWEB) June 20, 2014
A sun-splashed summer picnic in Central Park is a quintessential New York experience that's not to be missed. The newly opened Quin hotel - a Central Park Hotel, is located just 2 blocks from Central Park at 57th and Sixth Avenue, is offering a luxurious take on this classic New York outing for its guests, with an exclusive "Petrossian Picnic in Central Park" experience.
The Quin has teamed with Petrossian, a legendary purveyor of caviar and gourmet delicacies in New York and Paris for nearly 100 years, to create a signature picnic that's hand delivered to guests in an iso-thermic Petrossian picnic carry bag, and which includes a cozy L.L. Bean® picnic blanket to enjoy in the park and take home.
Petrossian, the world's largest distributor of caviar, is the international brand synonymous with the finest caviar products and gourmet delicacies. Since the brand's launch in 1920 in Paris, the Petrossian family has provided gourmet foods such as caviar, smoked salmon, French pastries, chocolates, and other fine edibles and gifts. With restaurants around the world, including New York, Los Angeles, and Las Vegas, Petrossian is committed to offering an authentic experience for guests.
Available now through September 1, 2014, the Quin's Petrossian Picnic in Central Park Experience includes a two-night stay and a special picnic for two. The picnic from Petrossian Boutique includes: 2 types of delectable baguette sandwiches, one featuring Petrossian's famous hand-sliced smoked salmon and the other made with house-roasted turkey with honey mustard and pumpkin seed sauce; mixed green salad; 30g Classic Transmontanus caviar; crème fraiche from Vermont Creamery; 30g salmon roe; Canadian foie gras; small jams; cream cheese; toast points; croutons; a large bottle of sparkling San Pellegrino or still Evian water; mixed fruit tarts and mini chocolate pearls.
The Quin's luxury attaché team can recommend scenic picnic spots in Central Park just a few short blocks from the hotel or design an afternoon's itinerary to take advantage of all the park has to offer. After the picnic, guests will have wonderful mementos of their New York City trip to take home, including the collapsible Petrossian logo iso-thermic picnic bag, a smaller iso-thermic caviar container, and a matching blue and black L.L. Bean fleece picnic blanket featuring a waterproof backing.
The Petrossian Picnic in Central Park experience at the Quin hotel is based on a 2-night minimum stay and is available starting at $499 depending on room typed selected.
Reservations are available by calling toll free: 855-447-QUIN (7846) or on The Quin Website >
About The Quin
The Quin - A Central Park Hotel, is New York City's newest luxury lifestyle hotel and is located on the corner of 57th Street and 6th Avenue. At the intersection of art, music, and fashion, its privileged Midtown location provides effortless access to Lincoln Center, Carnegie Hall, The Museum of Modern Art, and Fifth Avenue couture. The Quin melds modern opulence with its rich artistic heritage in each of its 208 thoughtfully appointed guest rooms including 28 suites. Guests relish in urbane and intelligent services, from the Attaché, who curate a guest's New York experience, to distinguished amenities like an Executive Boardroom for 10, state-of-the-art Technogym fitness center, Apple equipped drawing room, Dux® beds by Duxiana®, Fresh® Spa Products, and a 2-story, 130-seat artisanal American seafood grill, The Wayfarer, showcasing a menu of fresh regional seafood.
Quin Arts is an interactive arts program that celebrates the property's rich artistic heritage and produces exciting new platforms for contemporary artists. Renowned architecture and interior design firm, Perkins Eastman, has transposed a contemporary masterpiece on the classical foundation that was once home to cultural icons like pianist Ignacy Jan Paderewski and artist Georgia O'Keeffe. Resonating with refined repose, the Quin is the Quintessential Central Park Hotel.
Visit the Quin Website >
View the Quin's current offers >