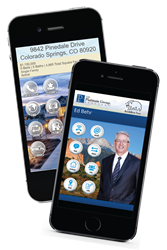 We've had tremendous adoption rates, with 30% of our members claiming their accounts in the first three months, and that number is still climbing.
RICHMOND, Va. (PRWEB) February 07, 2019
Central Virginia Regional Multiple Listing Service (CVR MLS) and SavvyCard, a member of the CoreLogic® (NYSE: CLGX) Alliance Network, today announced an agreement to offer SavvyCard for Real Estate to CVR MLS users, who will receive the product at no cost.
SavvyCard for Real Estate is a lead development solution that enables real estate agents to generate leads through their personal relationships and those of home sellers, through social media sites like Facebook and LinkedIn, and digital channels including email, text and Google search.
The SavvyCard platform uses data provided by MLS organizations to automatically create Progressive Web Applications (PWAs) called "SavvyCards" for each agent and listing in an MLS. These easily shareable SavvyCards contain all the information and tools needed to engage home buyer or seller prospects and convert them into clients for agents.
PWAs like SavvyCards are delivered through web browsers and don't require downloads, installs or sign-ins, so they generate better engagement and conversions than apps downloaded from app stores. PWAs combine the speed and ease of a website with the functionality of applications. Progressive Web Applications deliver better user experiences and as a result, generate better ROI for businesses.
Richard Renton, CEO of Triad MLS in North Carolina deployed SavvyCard for Real Estate for his MLS members and notes, "We've had tremendous adoption rates, with 30% of our members claiming their accounts in the first three months, and that number is still climbing. The integration of SavvyCard with Matrix shows an understanding of the agent's workflow and the importance of automation. It also demonstrates what can be achieved when a vendor and an MLS work together to maximize usage."
Lee Childress, a North Carolina based REALTOR® and Triad MLS member, tried SavvyCard for Real Estate in the first month after it launched. "SavvyCard is the best real estate tool I have," he stated. "I am closing on a property this weekend because of it."
"To ensure SavvyCard products create valuable results for businesses using them, we include tools that simplify and automate the process of generating leads," said David Etheredge, CEO of SavvyCard. "We are looking forward to providing CVR MLS users with this next generation technology to simplify their workflow and make it easier for them to book new business."
SavvyCard for Real Estate is scheduled to launch for CVR MLS members in the first quarter of 2019.
For more information on SavvyCard for Real Estate and other lead generation products for businesses, visit SavvyCard.com.
About the CoreLogic Alliance Network
The CoreLogic Alliance Network is a curated selection of third-party solutions that build upon and complement CoreLogic real estate products. For more information please visit: https://www.corelogic.com/landing-pages/alliance-network.aspx.