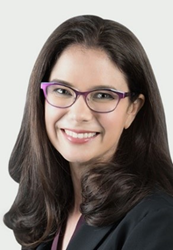 She is a customer-focused innovation leader who understands how to build and deliver world-class user experiences.
LAKE MARY, Fla. (PRWEB) June 10, 2021
CentralSquare, a leader in public sector technology, today announced that Hillary Ashton, Chief Product Officer for Teradata, the connected multi-cloud data platform for enterprise analytics, has joined the company's Board of Directors.
Ashton is responsible for defining the strategic direction for Teradata's cloud-first portfolio and leading its diverse Products organization overseeing innovation, product management, engineering and quality. Prior to her current role, Ashton served as Executive Vice President and General Manager of PTC's Augmented Reality (AR) business unit. Previous roles include serving as SVP of Analytics SaaS solutions at Manthan and as Director, Customer Intelligence at SAS. In each of these roles, Ashton has contributed to expanding market share and increasing revenue.
"Hillary brings impressive product leadership and cloud expertise to CentralSquare," commented David Zolet, CEO of CentralSquare. "She is a customer-focused innovation leader who understands how to build and deliver world-class user experiences. Her depth of experience will be valuable to CentralSquare as we realize our mission to build safer, smarter, connected communities."
Co-Chairs of the CentralSquare Board of Directors, Ian Loring and Betty Hung, added, "we are delighted to welcome Hillary to the CentralSquare Board as our newest Independent Director. Her SaaS product and development experience bring a valuable perspective to CentralSquare's growth strategy."
"Public service agencies are facing rising citizen expectations for service delivery, service equity and community engagement," said Ashton. "With its expansive customer footprint and deep customer relationships, CentralSquare is uniquely positioned to deliver transformative technology experiences for public sector agencies -and their communities."
Ashton received her BA in Government from Franklin & Marshall College and has been named to the National Diversity Council's annual list of the Top 50 Most Powerful Women in Technology. She is CentralSquare's second independent director, joining Commissioner William Evans, Former Commissioner of Boston Police, on the CentralSquare Board of Directors.
About CentralSquare
Formed by the merger of Superion, TriTech, Zuercher, and the public sector and healthcare business of Aptean, CentralSquare is an industry leader in public safety and public administration software, serving over 8,000 organizations from the largest metropolitan city to counties and towns of every size across North America. Its technology platform provides solutions for public safety, including 911, computer-aided dispatch, records management, mobile, citations, evidence management and corrections. For public administration agencies, CentralSquare provides software for finance, payroll, citizen engagement, asset management, regulatory compliance and community development. CentralSquare's broad, unified and agile software suite serves 3 in 4 citizens across North America. More information is available at CentralSquare.com.