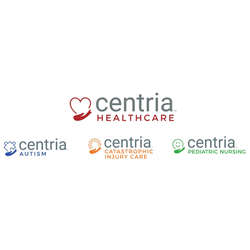 NOVI, Mich. (PRWEB) December 17, 2018
Centria Healthcare today announced the launch of its new corporate brand identity, which includes a rebranded website and a new logo for Centria Healthcare and its three service lines: Centria Autism, Centria Pediatric Nursing, and Centria Catastrophic Injury Care.
"We believe this new identity is more reflective of our mission and core values," said Dave Spencer, Chief Marketing Officer at Centria Healthcare. "The use of an 'open hand' throughout each logo is meant to reflect the high-quality care that we are committed to delivering to the clients we are honored to serve."
The decision to rebrand supports Centria Healthcare's rapid growth as a company as it enters new markets. Founded in Michigan in 2009, Centria now serves more than 2,500 clients in nine states and has become the nation's leading provider of Applied Behavior Analysis (ABA) therapy for children with autism. Additionally, Centria Healthcare also provides Pediatric Nursing and Catastrophic Injury Care in Michigan.
"This new branding accomplishes a unified look and feel, while providing greater clarity around the many services we provide," said Spencer.
For more information, please visit http://www.centriahealthcare.com.
Centria Healthcare is a leading provider of home-based catastrophic injury and rehabilitation services, private duty nursing, supportive living services, and Applied Behavior Analysis therapy for children with autism. With more than 2,000 trained clinical staff members across the country, Centria provides much-needed support to families living with autism, from pre-diagnosis options to treatment planning to direct therapy services. Centria is a leading national provider of ABA, providing therapy to children with autism and their families in nine states, including Arizona, California, New Jersey, New Mexico, Massachusetts, Michigan, Oregon, Texas, and Washington.