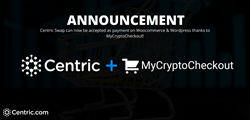 Online store owners everywhere can now invite customers to pay for products and services with Centric Swap
LONDON (PRWEB) August 04, 2021
Centric COO Thomas Butcher announced today the cryptocurrency project has added their Centric Swap (CNS) token to MyCryptoCheckout, a cryptocurrency payment gateway for WordPress.
"Online store owners everywhere can now invite customers to pay for products and services with Centric Swap," said Butcher.
MyCryptoCheckout is a WordPress plugin that integrates with WooCommerce and Easy Digital Downloads. It allows peer-to-peer payments from customer to merchant, cutting out the "middleman" and eliminating costly transaction fees.
"Leading payment solutions like PayPal, Stripe, and Square charge over 2.5% per transaction," said Butcher. "Those fees either eat into merchant profits, or get passed along to customers through inflated prices."
Merchants may accept crypto payments in CNS alone, or incorporate any of the 162+ tokens supported by the plugin. MyCryptoCheckout also offers a free donation widget.
Online stores expecting five or fewer crypto transactions per month can get started with MyCryptoCheckout's free plan. More established sellers can choose unlimited transactions for $58 USD per year.
"We remain fully committed to building our CENPAY merchant solution," said Butcher. "In the meantime, the MCC integration provides online stores an easy way to integrate Centric today."
Merchants wishing to see MyCryptoCheckout in action can check out the demo on their site and experience the checkout process.
Centric migrated from the TRON blockchain to the Binance Smart Chain (BSC) last month. MyCryptoCheckout supports only BEP-20 (BSC) Centric Swap (CNS).
Learn more about Centric - https://www.centric.com
Download Centric's Whitepaper - https://www.centric.com/docs/Centric_Whitepaper.pdf
About Centric
Centric was conceived with the vision of one day replacing traditional fiat currencies. Blockchain technology will enable a more transparent world and we believe our innovative approach to achieving widespread adoption long-term sets Centric apart from other cryptocurrencies today.
We believe the largest obstacle to the mass adoption of cryptocurrencies is price volatility. Cryptocurrencies, unlike fiat currencies, do not have a central bank to implement monetary policy focused on stabilizing purchasing power. Thus, changes in demand induce massive price fluctuations. The decentralized model to price discovery has made most existing cryptocurrencies nothing more than stocks or commodities, valued on psychology, traded on unregulated stock markets, and susceptible to manipulation. The lack of price stability has prevented credit and debt markets from forming because volatility incurs a premium.
While the rest of the industry focuses on transaction throughput and smart contracts, we focus on solving price stability to realize the economic capabilities that the blockchain enables.
###