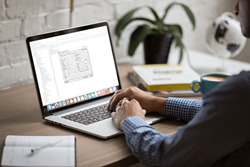 "EBizCharge Connect for Sage 100 will further simplify invoicing for our clients," said Scott McEwing, VP of Sales for Century Business Solutions. "With the integration, invoices paid through the portal can be applied directly back to Sage 100 with the click of a button."
IRVINE, Calif. (PRWEB) July 18, 2018
Century Business Solutions, a leading provider of merchant services and integrated payment processing solutions, is excited to announce new email payment and customer payment portal enhancements for its EBizCharge for Sage 100 payment integration.
Email payments for Sage 100 will give businesses the freedom to email invoices to customers in the form of secure webpage links. The integration seamlessly applies paid invoices back to accounts receivable within Sage 100.
Merchants will be able to receive payments faster and eliminate human errors. Each email payment will be linked to a specific invoice, so there's no need to go back and manually select each invoice, and it will be easy to see which invoices have been paid and which ones are still pending. Merchants can even send friendly email reminders straight to their customers' inboxes.
Century is also introducing a complimentary customer payment portal, EBizCharge Connect for Sage 100, that allows merchants to upload invoices to a secure web-based portal. Customers can make full or partial payments on single or multiple invoices at their convenience. Customers simply log in, review their invoices, and submit payments securely and remotely from anywhere.
"EBizCharge Connect for Sage 100 will further simplify invoicing for our clients," said Scott McEwing, VP of Sales for Century Business Solutions. "With the integration, invoices paid through the portal can be applied directly back to Sage 100 with the click of a button."
The customer payment portal seamlessly integrates with Sage 100. Paid invoices are synced to Sage 100, posting payments to invoices, accounts receivable, and the general ledger. Merchants can incorporate their company logo into the portal interface and embed the payment portal into their company website.
"We take a hands-on approach to developing our solutions," said McEwing. "We listen to feedback from our merchants on how we can streamline their accounting workflow. The integration of email payments and a customer payment portal for Sage 100 will help us achieve that goal."
Email payments and customer payments for Sage 100 are powered by the EBizCharge payment gateway, which gives users advanced reporting tools, additional fraud prevention modules, and unlimited batch history.
Century Business Solutions will continue to develop its suite of payment processing solutions in its mission to reimagine the payment acceptance space.
About Century Business Solutions:
Century Business Solutions is a technology-based merchant services provider that has developed and provided payment processing technology for over 10,000 merchants in the U.S. and Canada since 2004. In 2017, Century was ranked on the annual Inc. 5000 list honoring the nation's fastest-growing private companies. Century was also awarded the 2018 Silver Stevie Award for Payment Product and Service of the Year in the 16th Annual American Business Awards, the world's largest premier business awards. Century develops fully integrated payment processing solutions for over 50 major ERP, CRM, and accounting systems, including Sage, Microsoft Dynamics, QuickBooks, SAP Business One, and Acumatica, as well as major online shopping carts, including Magento and WooCommerce. For more information, visit https://www.centurybizsolutions.net.