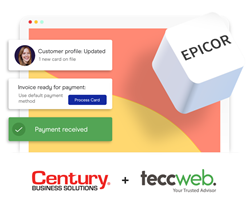 "Our partnership with Century Business Solutions will allow our customers to streamline payment processing and reporting." -- Matt Peters, Epicor Consultant at Teccweb.
IRVINE, Calif. (PRWEB) March 01, 2021
Century Business Solutions is excited to announce its partnership with Teccweb, an Epicor Certified Services partner providing support, consulting, and training services, to allow credit card processing directly within Epicor.
Century Business Solutions' development team has built a payment integration for Epicor that uses Century's proprietary payment gateway, EBizCharge, to provide credit card processing for thousands of merchants across the country.
Century's credit card integration allows merchants to process credit cards from directly within Epicor.
The powerful EBizCharge payment gateway is designed to lower processing fees by submitting line-item details directly to the bank. EBizCharge is fully PCI compliant and offers advanced data encryption and tokenization technology to ensure maximum transaction security within Epicor. EBizCharge is compatible with over 100 leading ERP and accounting systems and major online shopping carts and provides unlimited transaction and batch history for reporting purposes.
"Our partnership with Century Business Solutions will allow our customers to streamline payment processing and reporting," said Matt Peters, Epicor Consultant at Teccweb. "It enables us to provide a fully integrated payment processing experience within Epicor ERP."
With EBizCharge, users can run custom reports, sort through transactions by category, and immediately release funds when issuing refunds.
The partnership between Teccweb and Century Business Solutions will help streamline workflow, eliminate double data entry, and make payment processing more efficient within Epicor.
About Century Business Solutions
Century Business Solutions is reinventing the way companies accept credit card payments with their all-in-one payment solution, EBizCharge. EBizCharge is one of the top payment gateway alternatives to its more expensive and inefficient counterparts and is specifically designed to reduce payment processing costs and inefficiencies. EBizCharge integrates seamlessly with over 100+ accounting, ERP, CRM, and shopping cart systems, including QuickBooks, Sage, SAP B1, Microsoft Dynamics, Acumatica, Magento, and WooCommerce. Century is partnered and certified with Microsoft Dynamics, Acumatica, SAP, Oracle, QuickBooks, WooCommerce, Magento, and many more. For more information, visit https://www.centurybizsolutions.net.
About Teccweb
Teccweb is your trusted advisor for all your business needs. Our mission is to offer technological and business advisory services and customized integrated solutions to enhance and deliver measurable business results to improve and keep your competitive edge. We want to make it easy for our clients to do business with us, by providing knowledge in the areas of technology and business. We can help with finance, manufacturing, distribution, information technology, human resources, training, sales, communications, and marketing by investigating your challenges and providing solutions that will improve your business efficiency and operational success.
Our success is derived from building strong, long-term customer partnerships by providing the best service possible. We know that our success is a direct measurement of your success. Our customers include a range of manufacturing companies, financial institutions, co-operative organizations, not for profits, retail businesses, Epicor Professional Services, and other Epicor Channel Partners. We offer a diverse skill set which enables us to provide our customers with the expertise needed to solve complex business issues successfully. Our expertise is such that we have long-term engagements with other Epicor Channel Partners as well as large corporations who rely on our support in their day-to-day operations. For more information, visit http://www.teccweb.com