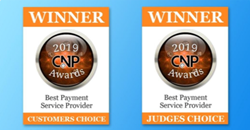 IRVINE, Calif. (PRWEB) May 28, 2019
Integrated payments provider Century Business Solutions was named winner of the Best Payment Service Provider (PSP) award for the 2nd year in a row in the 2019 Card Not Present (CNP) Awards.
The Best PSP award recognizes the company whose PSP model provides eCommerce merchants with the best merchant services and payment processing. Century was recognized for its ability to support virtually any CNP merchant with one of the largest offerings of payment currencies and types, platform certifications and proprietary gateway options.
Presented at the 2019 CNP Expo in San Francisco, the CNP Awards are the only awards honoring the companies, programs and solutions that have distinguished themselves in the card not present space throughout the year.
Now in its seventh year, the CNP Awards have become widely recognized and trusted for their appraisal of payment industry innovators.
Century was also recently named winner of the 2019 Silver Stevie® Award for Payment Product and Service of the Year in the 17th Annual American Business Awards.
Century provides over 50 software integrations to simplify payment processing for over 20,000+ users. Their proprietary payment gateway, EBizCharge, allows businesses to accept credit card payments directly inside their ERP and accounting software, eCommerce shopping carts, and CRM systems.
The company also offers an online customer payment portal that allows customers to view outstanding invoices and process payments online at their convenience. Customers can make full or partial payments on single or multiple invoices from anywhere. Paid invoices are synced back to accounting software and payments are posted to invoices, accounts receivable, and the general ledger.
To learn more about Century's product offerings, including payment processing, mobile solutions, and payment integrations, visit https://www.centurybizsolutions.net.
About Century Business Solutions
Century Business Solutions is reinventing the way companies accept credit card payments with their all-in-one payment solution, EBizCharge. EBizCharge is one of the top payment gateway alternatives to its more expensive and inefficient counterparts and is specifically designed to reduce payment processing costs and inefficiencies. EBizCharge integrates seamlessly with over 50+ accounting, ERP, CRM, and shopping cart systems, including QuickBooks, Sage, SAP B1, Microsoft Dynamics, Acumatica, Magento, and WooCommerce. Century is partnered and certified with Microsoft Dynamics, Acumatica, SAP, Oracle, QuickBooks, WooCommerce, Magento, and many more. For more information on Century Business Solutions, visit https://www.centurybizsolutions.net/.