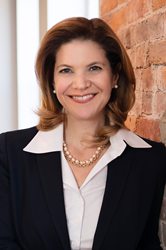 SAN DIEGO (PRWEB) November 30, 2022
SOLV Energy, a leading solar EPC and services provider in the U.S., is pleased to announce the appointment of Laura E. Stern to its Board of Directors.
An experienced CEO, entrepreneur and Board Director for the Solar Energy Industries Association (SEIA), Laura Stern brings over twenty-five years of operational, financial and organizational experience to the SOLV Energy board. Under her sixteen-year leadership of Nautilus Solar Energy, LLC, which she co-founded in 2006, the company developed, financed, owned and operated over $1.5 billion of solar assets throughout the U.S. Nautilus was successfully acquired by Power Corp. of Canada in 2019.
SOLV Energy designs, builds and operates utility-scale solar power facilities in North America. Founded in 2008 as part of a large general construction company, SOLV Energy was acquired in 2021 by American Securities, LLC. The company's CEO, George Hershman, currently serves as the Board Chair for SEIA.
"After years of working together on the SEIA Board, I'm thrilled to welcome Laura Stern to the SOLV Energy team," said George Hershman, CEO of SOLV Energy. "Laura's experience leading a successful development company will bring a new perspective to our Board of Directors. She will provide valuable guidance as we bring SOLV Energy into our next phase of growth by investing in services to meet the rapidly escalating demand for clean energy in the United States."
"I'm excited to join the SOLV Energy Board of Directors at the beginning of this explosive period for renewables," said Laura Stern. "The Inflation Reduction Act offers incredible growth opportunities for EPC and solar services providers as the industry rallies to meet the emissions reduction goals targeted in this legislation. SOLV Energy is well-positioned to excel in this environment, and I look forward to working together to meet the growing demand for solar energy resources in the United States."
About SOLV Energy
SOLV Energy offers engineering, procurement and construction (EPC) and operations and maintenance (O&M) services for solar photovoltaic plants throughout North America. We believe that good energy has a ripple effect. That's why we only take on projects that provide cleaner power, better jobs, greater education and a brighter future for our communities. Backed by a powerful legacy, we've branched out to focus solely on renewable energy initiatives. Recognized as an industry-leading solar contractor and O&M services provider, our team was ranked the #1 solar contractor in the United States by Solar Power World and Wiki-Solar in 2022.