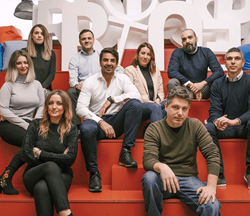 They have an impressive team, and their technology and product cover all the processes, from client onboarding to asset management to commercialization. I believe they can fundamentally change the way real estate is leased, bought and sold—first in Greece, then Europe as a whole.
SAN FRANCISCO (PRWEB) April 28, 2021
Maximillian Diez, CEO of Twenty Five Ventures, a consultancy firm that provides guidance and resources to emerging businesses in proptech, real estate tech and fintech has joined Prosperty as a senior advisor.
Prosperty, founded in 2020, is a revolutionary proptech company headquartered in Greece. It is transforming the way the real estate market works and is redefining the experience by making selling, buying, renting and managing property simple, contactless, transparent and efficient.
This move signals that Twenty Five Ventures is looking outside the US market for early-stage investments.
"We have been carefully watching the European proptech scene and believe that Prosperty is well poised with their initial product offerings to pioneer this next stage in the region's evolution," said Diez. "Europe is experiencing major innovation in brokerage services, ibuying and portfolio securitization."
Prosperty is disrupting a very traditional market by leveraging proprietary technology, process automation, advanced data intelligence and rich content. Led by Antonis Markopoulos, Nikos Patsiogiannis and Antonis Despotakis, Prosperty raised €1.1 million in 2020 and is in the early stages of raising capital for their platform.
"Given our vision to expand across Europe, we are delighted to welcome to our team Maximillian Diez and EJ Pineda," said Antonis Markopoulos, CEO of Prosperty.
Diez and Pineda will be providing insights into the hybrid real estate brokerage business and the proptech industry overall, building on their collective experience at Redfin, ZipRealty, UpNest and Movoto.
"Max's 20-plus years in the real estate industry as an executive, thought leader and a broker to advise and invest in seed- and series-stage companies will be a great asset to our company," said Antonis Patsiogiannis, COO of Prosperty. "EJ's massive experience on proptech operational efficiency will allow us to scale fast by reducing our operational overhead."
"I am excited to collaborate with Prosperty," said Diez. "They have an impressive team, and their technology and product cover all the processes, from client onboarding to asset management to commercialization. I believe they can fundamentally change the way real estate is leased, bought and sold—first in Greece, then Europe as a whole."