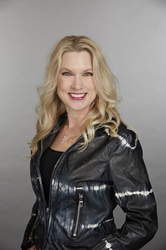 "I'm humbled and truly excited to be part of the 2020 awards program and wish all the finalists the best of luck!" -Valerie Jennings, CEO Jennings Social Media & MarTech
NEW YORK (PRWEB) January 15, 2020
DMN, the online resource for marketing data, strategy, and technology, announced the finalists for the 2020 DMN Awards. Awards are presented to outstanding campaigns of the previous year, and to cutting edge marketing technology companies, as well as to the marketing technology executive of the year, and marketer of the year.
Jennings Social Media & MarTech (JSMM) is proud to announce that CEO Valerie Jennings is a nominee in the Marketer of the Year category. The Award will be presented at a ceremony to be held at the Dream Midtown Hotel in New York on Thursday, February 20.
The Awards, which were first presented in 2014, have honored some of the biggest names in the agency and marketing technology worlds. The finalists and ultimate winners are determined based on rankings given by a panel of independent judges.
In 2018, Jennings was honored by DMN as a Top 40 Under 40 digital marketing leader and was named a Top 50 Kansas City Influencer by BloggerLocal. Additional recognitions include Kansas City's Most Wanted Honoree 2015 and Most Influential Woman in Business, Class of 2014. Jennings has been interviewed about her success by national media and featured on magazine covers. JSMM has also successfully met the requirements of the NWBOC National Certification Program for certification as a woman-owned and woman-controlled business as of 2018.
A valuable mentor in the community, Jennings was also selected to lead a panel to share her expertise on running a marketing agency at the 2020 Midwest Digital Marketing Conference in St. Louis this spring.
Jennings stays abreast of the ever-changing tech landscape by observing the latest trends and seeking opportunities to evolve with the adoption of AI and MarTech in the modern marketing space. She recently obtained a certification in artificial intelligence, through a program taught by leading minds that included Stanford University adjunct professor of computer science Andrew Ng, who founded and led the Google Brain project, a program developed using mass-scale deep learning algorithms.
Jennings continues to innovate with marketing technology opportunities across the agency's global client accounts from publicly-traded companies to midsize businesses. Valerie is a well regarded early adopter of social media since 2005 and a successful entrepreneur, founding her agency in 2003 at the age of 24. She is also an advocate for numerous charities, mentors women and entrepreneurs and is highly engaged in the AI community.
ABOUT JSMM
Founded by Valerie Jennings in 2003, Jennings Social Media & MarTech is a full-service digital marketing agency, representing clients ranging from publicly traded companies to startups. JSMM is an award-winning, early-adopter agency, leading the industry into the future of digital advertising, using artificial intelligence to drive business objectives among B2B and B2C clients worldwide. JSMM has locations in Overland Park, Kan., Irvine, Calif. and Miami Beach, Fla.
ABOUT DMN
DMN covers all aspects of digital and data-driven marketing. In addition to delivering content via newsletters, eBooks, webcasts, podcasts, and custom projects/publications, as well as at DMNews.com, it hosts a number of live events, including the annual 40Under40 Marketing Awards, the DMN Awards, and the DMN Marketing Hall of Femme). DMN is owned and operated by AC Business Media, Inc., a privately held media and business intelligence company, located at 201 N Main St, Fort Atkinson, WI 53538.