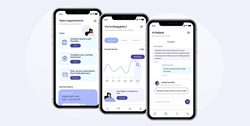 It's a full team of mental healthcare specialists and evidence-based treatment -- with you wherever you go.
SAN FRANCISCO (PRWEB) December 28, 2020
Today, Cerebral launched its mobile app on both iOS and Android platforms. The Cerebral app now allows Cerebral members across the country to receive their care wherever they are.
Since launching in January of this year, Cerebral has improved tens of thousands of lives by providing access to comprehensive mental healthcare online. More than 75% of Cerebral clients achieve meaningful reductions in their symptoms in less than 2 months of care. With the mobile app, the company expects that percentage to get even better.
Alex Martelli, the product manager who spearheaded the app's creation says, "We want to make it as easy to work on your own mental health as it is to play that addicting game on your phone. But instead of some game, it's a full team of mental healthcare specialists and evidence-based treatment. We want to be there every step of the way to help you on your own mental health journey."
Accessibility, care coordination, and trust are all vital to a successful ongoing mental health routine. With the Cerebral app, members can easily get all three.
With the app, members get:

Video sessions from anywhere. Provider visits, therapy sessions, and care counseling can all be done anywhere members have wi-fi or mobile service.
Account and prescription management. Via the app, members can access their account dashboard to manage prescriptions, check on a prescription status, and make any changes to their account.
Assessments from anywhere. Cerebral prides itself on providing engaging mental health care, an important component of which is ongoing mental health assessments. Now, these can be done quickly and easily on mobile devices.
About Cerebral
Cerebral is a mental health telemedicine company that offers high-quality medication management, counseling, and therapy for anxiety, depression, and insomnia. The company is focused on transforming access to mental healthcare so that anyone with an internet connection can get the care they need. Cerebral is headquartered in San Francisco, CA.