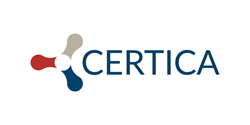 The TE21 CASE Benchmarks are highly regarded by educators and are unique in that they are both predictive and customizable for the district.
WAKEFIELD, Mass. (PRWEB) April 11, 2019
Certica Solutions, provider of the Certica Connect™ edtech platform-as-a-service (PaaS), today announced that it has acquired TE21, provider of the CASE Benchmark Assessments™. Through this acquisition, Certica expands its K-12 formative assessment and analytic offerings to include predictive benchmark assessments, which allow teachers to forecast outcomes on state assessments with a high degree of correlation, measure students' mastery of learning standards, and evaluate college and career readiness.
As states look to meet ESSA regulations within their accountability systems, educators are rethinking their approach to benchmark and summative assessment. The TE21 CASE Benchmarks—for Math, ELA, Science and Social Studies—closely mirror states' assessment blueprints and are further customized to align to each district's instructional scope and sequence, enabling schools to assess students' preparedness for end-of-year tests. CASE Benchmark data is used by teachers to develop individual student needs profiles, determine and apply appropriate interventions, inform instruction, and personalize learning.
Said Jeff McCoy, associate superintendent for Academics at Greenville County Schools (S.C.), "The TE21 CASE Benchmark Assessments have provided teachers with actionable data they can use to immediately intervene and accelerate student success. Coupled with the power of professional learning communities (PLCs), the data is an invaluable resource that provides teachers with the information they need to break down barriers to student learning."
TE21 was founded in 1999 and has offices in Durham, N.C., and Charleston, S.C. The CASE Benchmarks are used by more than 250 districts across the Southeast and will be expanded and customized for districts in other states, leveraging Certica's district presence nationwide. CASE Benchmark data will also be integrated with Certica's ViewPoint Connect™ K-12 analytic application, to provide an even more comprehensive picture of student data in ViewPoint's dashboards, growth charts and student watchlists.
In addition to the CASE Benchmark Assessments, TE21's assessment suite includes:

CASE Item Bank™ with more than 80,000 summative-quality test items (from prior benchmarks) aligned to state learning standards. The CASE Item Bank complements Certica's existing test item banks and brings the combined number of items available from Certica to more than 220,000.
enCASE™, TE21's interactive and easy-to-use assessment platform which delivers the CASE Benchmarks and allows teachers to create and administer their own classroom assessments from the CASE Item Bank, as well as Certica's Navigate Item Bank™ commencing in the 2019-20 school year.
CASE College & Career Ready Assessment™ (CCRA) which mirrors the ACT® college admissions test with a high reported rate of predictability.
Said Cindy Hollar, CEO at TE21, "With Certica, we have the opportunity to expand our offerings to a national scale and leverage Certica's investments in machine-assisted learning standards alignment, data integration and education analytics. Certica also has deep expertise in software development, SaaS infrastructure and product support which will allow us to establish a robust roadmap for the enCASE assessment platform. Certica is deeply committed to improving student outcomes by delivering comprehensive, actionable data to the classroom, and we are excited to join their team."
Said Mark Rankovic, CEO at Certica, "The TE21 CASE Benchmarks are highly regarded by educators and are unique in that they are both predictive and customizable for the district. The TE21 team has developed an extensive network of district administrators and educators who have seen significant, measurable improvement in student performance, and we look forward to working with these districts and extending their success to other states."
About Certica Solutions
Certica is the innovator of the Certica Connect platform-as-a-service (PaaS) which provides application interoperability and centralized integration, access and enrichment of education data, metadata and content. The company partners with a diverse network of K-12 application and system vendors, as well as publishers, and learning content and assessment providers. Certica also delivers solutions directly to more than 600 school districts and numerous charter school organizations, state education agencies and educational service agencies. Follow Certica @Certica_K12.