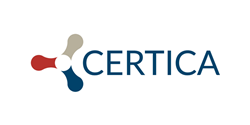 Said Mark Rankovic, Certica's president and CEO, "we are honored to have Todd and Meredith on the Certica team. They have seen firsthand the connection between effective assessment and smarter classroom data use—and educators' ability to impact student outcomes."
WAKEFIELD, Mass. (PRWEB) January 14, 2020
Certica Solutions, provider of K-12 assessment and analytics solutions which promote student improvement and achievement, today announced that it has expanded its Professional Development team with the appointment of two accomplished education leaders.
Todd Wirt, Ed.D., and Meredith Park, Ph.D., have joined the team to deepen the company's Professional Development practice with courses to help educators make more effective use of assessment data and develop cultures of data literacy and accountability in their schools and districts. The company's Professional Development courses include sessions on using benchmark data to improve instruction; developing cultures of accountability; creating high-performing professional learning communities (PLCs); and building balanced formative assessments using item banks.
Both Dr. Wirt and Dr. Park are former educators who have used Certica's CASE Benchmark Assessments in their districts to evaluate students' mastery of learning standards, predict outcomes on state summative assessments, and use highly informative benchmark test data to drive effective instructional strategies and help students succeed.
Dr. Wirt joins Certica as vice president, Professional Development, having served more than 20 years as an educator in North Carolina. He is the former superintendent of Orange County Schools (NC) where he created a culture of data use resulting in improved student outcomes, and successfully implemented Multi-Tiered Systems of Support (MTSS). Wirt also served as the assistant superintendent of Academics at Wake County Schools (NC). He was formerly a principal, assistant principal and middle school teacher in North Carolina districts. In 2016 Wirt was named the North Carolina Outstanding Young Educator by the North Carolina Association for Supervision and Curriculum Development.
Dr. Park is a professional development specialist with Certica with more than 20 years in instructional leadership, school improvement, data and accountability, educational research, and policy design. Prior to her appointment at Certica, Park served as assistant superintendent of Academic Education for Germantown Municipal School District (TN). At DeSoto County School District (MS), Park served as the director of Federal Programs and coordinator of formative assessments, and was an instructional coach. She has also been a teacher in several Mississippi districts.
Said Mark Rankovic, Certica's president and CEO, "we are honored to have Todd and Meredith on the Certica team. They are both respected veteran educators who have personally developed and executed strategies to help students succeed and we are delighted to be sharing their knowledge and practice with our school district clients. They have seen firsthand the connection between effective assessment and smarter classroom data use—and educators' ability to impact student outcomes. Todd's and Meredith's appointments complement an already exceptional professional development and client service team and we are delighted to welcome them."
About Certica Solutions
Certica is dedicated to advancing academic progress and equity in education through measurable improvements in student achievement. Certica's analytic, assessment and data management solutions provide a foundation for standards-based learning and assessment, as well as teacher data literacy. Certica serves more than 1,500 K-12 school districts and numerous charter school organizations and educational service agencies. Certica is based in Wakefield, Massachusetts, with offices in North Carolina, Ohio, South Carolina and Texas. Follow Certica on Twitter @Certica_K12.