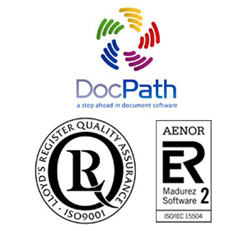 The high quality standards increase productivity and efficiency, which directly affects the customer's satisfaction. These certificates leave DocPath in first place within the local and international technology market.
Suwanee, GA (PRWEB) April 29, 2014
During the first quarter of the year 2014, DocPath has updated its two Quality certifications obtained thanks to their commitment to the continuous improvement of their processes and internal management. This is the ISO 9001:2008 and ISO/IEC 15504, obtained in the years 2010 and 2013, respectively.
This double update expounds the DocPath corporative philosophy, which is based on increasing efficiency and productivity, with the aim of satisfying the customer's requirements.
The Quality seal ISO 9001:2008, awarded by Lloyd's, covers all the business areas and DocPath headquarters in Spain and EEUU. With the aim of constant improvement of the implemented management system, as well as a confirmation of their ability to develop and provide efficiently those products and services which meet all the quality requirements.
The ISO 9001:2008 is supported by the agencies UKAS (United Kingdom) and ANAB (U.S. ), giving DocPath a prestigious international recognition.
On his side the seal of quality ISO/IEC 15504, awarded by AENOR (Spanish Association of standardisation and certification) and which is also known as Software Process Improvement Capability Determination (SPICE), is a model for the assessment and improvement of the processes of development and maintenance.
About Lloyd's, ANAB, UKAS and AENOR
Lloyd's Register Quality Assurance is a classification and certification society and a group for risk analysis. It was the first certification association in the world to obtain accreditation to assign certificates of quality management systems.
UKAS (United Kingdom Accreditation Service) is the most known and prestigious association for accreditation in the world, and the only organization in the United Kingdom known by the British government to provide certification and assesment services.
ANAB (ANSI-ASQ National Accreditation Board), is a U.S organization internationally recognised, that evaluates and accredits certificate associations to perform audits and certify organizations.
AENOR (Spanish Standards and Certification Association), is a private nonprofit institution which contributes on improving the quality and the competitiveness of the companies, their product and services.
For more information about these associations, visit lrqa.es, anab.org, ukas.com and http://www.aenor.es.
About DocPath
DocPath is a leading document technology software manufacturer. Founded in 1992, its solutions are found in companies all over the world. Among its international clients, are prestigious banks and first-class corporations, which are aided by DocPath solutions by simplifying the complicated and critical task involving design and the distribution of documents. DocPath maintains a strong commitment to R&D&i, an area that receives a good amount of its revenue, and in which lies the key to the company's success.
For more information, visit: http://www.docpath.com.
DocPath is a registered trademark of DocPath Corp. All rights reserved. Other trademarks may be the property of their respective owners.