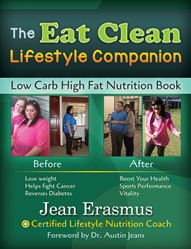 "When you initially told me my ideal weight, I never thought I could achieve that goal. I am now under my goal weight. I would never have achieved this without you and your amazing guidance." - Client testimonial
NEW YORK (PRWEB) November 18, 2019
After losing weight on her low carbohydrate high fat (LCHF) diet, author Jean Erasmus began her own support group in Zimbabwe. It attracted 2,000 members on Facebook from throughout the world. "I am very passionate about the success of the system, and the coaching one-on-one has benefitted people in a very unique way."
Client testimonial from Alana: "This morning I am at 65 kgs (143 pounds), that's a total loss of 15.3 kgs (about 34 pounds) in a few months. When you initially told me my ideal weight, I never thought I could achieve that goal. I am now under my goal weight. I would never have achieved this without you and your amazing guidance. You have had such a positive impact on my health, and I am eternally grateful."
This motivational handbook The Eat Clean Lifestyle Companion: Low Carb High Fat Nutrition Book contains other personal testimonies by people who have lost amazing amounts of weight. Featured on the back pages are some of those who have conquered their weight issues using the program.
Although there are other books on the subject, "ordinary people, like me, need a basic and clear picture of how the system works," Erasmus says. She advises getting physician approval before beginning any diet program.
Watch the video book trailer at: https://youtu.be/xa5Y5UPX3b8
About the Author: "I have more energy now at the grand age of 55 than I did at 21," says Jean Erasmus, the Zimbabwean mother of four children. "To date I have lost 48 kgs (about 106 pounds) and 10 inches off my waist alone. I have had an incredible journey with the low carb, high-fat system." The author is off her medications and has stayed healthy
"Get the jump on a healthier life by reading The Eat Clean Lifestyle Companion. We are proud to be the publisher." – Robert Fletcher, CEO of Strategic Book Publishing and Rights Agency.
THE EAT CLEAN LIFESTYLE COMPANION: LOW CARB HIGH FAT NUTRITION BOOK (ISBN: 978-1-68181-553-4) is now available for $25.99 and can be ordered through the publisher's website:
http://www.sbprabooks.com/JeanErasmus or at your favorite book seller.
WHOLESALERS: This book is distributed by Ingram Books and other wholesale distributors. Contact your representative with the ISBN for purchase. Wholesale purchase for retailers, universities, libraries, and other organizations is also available through the publisher; please email bookorder@sbpra.net.