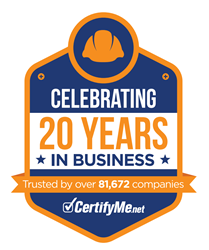 PHOENIX (PRWEB) June 23, 2020
CertifyMe.net, the leader in online forklift certification recently celebrated its 20th anniversary. The company, one of the first online enterprises to make OSHA certification affordable and completely online, is part of CEO Tom Wilkerson's safety training network, which also includes ForkliftCertification.com, CertifyMeOnline.net, and AerialLiftCertification.com.
"I saw a need early on for a simple, easy method for companies to obtain & retain OSHA compliance," said Mr. Wilkerson. "That's the story behind CertifyMe.net. Before online certification programs like CertifyMe.net, consultants would identify safety issues, but not actually implement solutions. From the start, CertifyMe.net empowered employers to take control of their safety training and OSHA compliance – and to this day, we've kept true to that promise."
CertifyMe.net provides a comprehensive assortment of tools and resources for companies to train their own employees on basic and advanced forklift safety, including:

Online instruction
Hands-on evaluation forms
Free renewal certification
Complete customer support
And much more
Servicing over 81,000 clients across the United States, CertifyMe.net remains a go-to source for reliable, affordable, efficient forklift certification, even as OSHA safety rules and guidelines change on a regular basis.
"The most important elements of CertifyMe.net and our other online certification programs are safety and compliance. Our certification courses address critical safety issues already included in OSHA guidelines. What's more, CertifyMe.net documents all training for every employee. This is very important in the unfortunate event of a workplace accident or injury. Our certification not only protects employees – your most important assets – but also protects your other assets, since the absence of training documentation translates into severe fines and penalties."
According to an internal CertifyMe.net study, more than 50% of companies surveyed have been audited by OSHA, and over 50% of those were fined for compliance and safety violations. CertifyMe.net and Mr. Wilkerson's other certification companies help prevent violations which often lead to accidents and injuries on the job.
Visit CertifyMe.net for more information about their safety certification and OSHA compliance programs. You can also call 1-888-699-4800 to speak with a safety consultant. To view the complete CertifyMe.net forklift course catalog, click here.
About the Author
Tom Wilkerson is a former crane operator with an intimate knowledge of OSHA processes and policies. His umbrella of OSHA compliance and certification companies, led by CertifyMe.net, helps businesses from a variety of industries (construction, distribution, shipping, logistics, maintenance, and more) with safety, certification, and compliance. Mr. Wilkerson's other certification enterprises include CertifyMeOnline.net, ForkliftCertification.com, and AerialLiftCertification.com. Besides his passion for safety in the workplace and ensuring OSHA compliance for his numerous clients, Mr. Wilkerson enjoys spending time with his family.