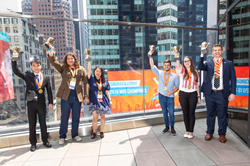 NEW YORK (PRWEB) August 05, 2019
The winners of the 2019 Microsoft Office Specialist World Championship have been announced by Certiport, the leading provider of performance-based IT certification exams that accelerate academic and career opportunities for learners.
In its 18th year, the competition attracted more than 850,000 test-takers from 119 countries. Students, ages 13 to 22, competed with peers to prove their superior skills in Microsoft Word, Excel and PowerPoint, culminating in the most popular technology skills competition on Microsoft Office—and the only one endorsed by Microsoft since its inception in 2002.
To enter the competition, students took a qualifying Microsoft Office Specialist certification exam to demonstrate their mastery of Microsoft Office technology. Regional competitions were held worldwide and 155 student finalists from 50 countries qualified to compete in the final round of competition in New York, New York, USA from July 28 – 31.
The 2019 Microsoft Office Specialist World Champions are:
Microsoft Word® 2013
First place, Li-Ting Wang, Taiwan
Second place, Pak Ming Yip, Hong Kong
Third place, Hoi Chon Tam, Macau
Microsoft Word® 2016
First place, Adrian Boier, Romania
Second place, Pou Leng Ho, Macau
Third place, Aryan Trehan, India
Microsoft PowerPoint® 2013
First place, Kyriakos Chatziefthymiadis, Greece
Second place, Ana Marija Atanasovska, Republic of North Macedonia
Third place, Ashlyn Dumaw, USA
Microsoft PowerPoint® 2016
First place, Seth Maddox, USA
Second place, Ondrej Cach, Czech Republic
Third place, Adrian Muntean, Romania
Microsoft Excel® 2013
First place, Chi Kin Che, Macau
Second place, Fariz Firdausi, USA
Third place, Anh Tran Hoang, Vietnam
Microsoft Excel® 2016
First place, Mihaela Florea, Romania
Second place, Kitithat Khemsom, Thailand
Third place, Tarik Džambić, Bosnia and Herzegovina
In the concluding round, competitors participated in unique, project-based tests to demonstrate their ability to create documents, spreadsheets and presentations for the information presented in Word, Excel and PowerPoint. Certiport and Microsoft recognized the top student competitors at the MOS World Championship Awards Ceremony at the New York City Marriott Marquis and presented each first-place winner with a $7,000 cash prize, second-place with $3,500 and third-place with $1,500.
"We've watched this event grow exponentially over the past 18 years, proving that these skills have staying power," said Ray Murray, Vice President and General Manager – IT, Pearson VUE. "It is inspiring to see students from 50 countries come together to speak Microsoft. The winners receive an extra pat on the back, but every single student who entered earned a valuable workforce credential that will help them find success in college and career."
With 2.3 million certifications delivered annually, Microsoft Office Specialist is the world's largest IT certification program. Microsoft Office Specialist is the only official Microsoft-recognized certification for Office globally and serves as a powerful instrument for assessing student skills and preparing students for real-world application.
"The Microsoft Office Specialist World Championship is one of my favorite events, because these students are thrilled to compete and they inspire all of us with their competitive spirit and crowning achievement," said Anthony Salcito, Vice President, Worldwide Education - Microsoft. "These young people competing in the finals in New York City and their peers from around the world who have competed to earn valuable industry recognized certification represent a bright future for our industry and a solid foundation for the future skilled global workforce."
"We are honored to be the sponsor for an international competition for youth, to help inspire students across the world to apply technology in their daily lives," said Mrs. Nguyen Ha Thanh, Communications Director for Viettel Group, premier sponsor of the competition. "As a technology corporation, we understand how technology is changing the world, and the Microsoft Office Specialist certification is a great start to future success."
Next year, Certiport will host the 2020 Microsoft Office Specialist World Championship at Disney's Grand Californian Hotel in Anaheim, CA, from August 2-5, 2020. Download high-resolution photos of the winners here and video interviews here. The event hashtag is #MOSWC.
About Certiport
Certiport is the leading provider of learning curriculum, practice tests, and performance-based IT certification exams that accelerate academic and career opportunities for learners. Certiport provides certification development, delivery, and program management services through an expansive network of more than 12,000 Certiport Authorized Testing Centers worldwide. More than 3 million Certiport exams are delivered in 26 languages across 148 countries each year throughout the academic, workforce, and corporate technology markets. Certiport is a Pearson VUE business, and is a part of the world's leading learning company, Pearson. To learn more, go to certiport.com.
"Certiport" is a registered trademark of NCS Pearson, Inc. in the United States and other countries. The names of actual companies and products mentioned herein may be the trademarks of their respective owners.