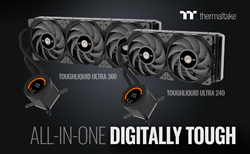 "Intuitive hardware monitoring and advanced personalization are what the THOUGLIQUID ULTRA series brings to the market," said Kenny Lin, the CEO of Thermaltake.
WALNUT, Calif. (PRWEB) January 07, 2021
Thermaltake, the leading PC component brand offering premium solutions for cooling, gaming peripherals, and enthusiast memory, today is proud to announce the TOUGHLIQUID Series, the newest member of the Thermaltake AIO liquid cooler line up. TOUGHLIQUID ULTRA and TOUGHLIQUID ARGB Sync are built using the TOUGHFAN 12 high-performance fans to deliver superior cooling performance and stability for system builders. Offering a variety of models, supporting radiators sizes including 240mm, 280mm and 360mm, equipped with a LED display or RGB on the pump.
"Intuitive hardware monitoring and advanced personalization are what the THOUGLIQUID ULTRA series brings to the market," said Kenny Lin, the CEO of Thermaltake. "The important information like CPU temperature, frequency, and performance usage can be displayed in real-time on the smart 2.1" LCD monitor. Users can also personalize the display with GIF pictures or with custom RGB lighting modes through our RGB software. Thermaltake is giving PC builders even more customization options with this next-gen AIO watercooler."
TOUGHLIQUID ULTRA series
The TOUGHLIQUID ULTRA comes packed with additional features and upgrades, including the high-performance TOUGHFAN 12 Turbo series radiator fans with an impressive 2,500RPM maximum speed offering stronger airflow for enhanced cooling. This new fan incorporates the 2nd-generation hydraulic bearing and LCP blades for maximum cooling performance and quiet operation. The TOUGHLIQUID ULTRA features a redesigned radiator with more fin surface area for excellent thermal efficiency and is now available in 240mm or 360mm form factors. The integrated water pump comes with a full copper base plate for outstanding heat conductivity, and the entire cooler comes pre-refilled for zero maintenance and long-lasting operation.
The water block mounted LCD screen is able to display real time monitoring of multiple hardware components, lighting effects and customized GIF files featuring our new TT RGB Plus 2.0 software. Sync up with other TT RGB Plus products to create beautiful lighting effects, across multiple levels, all from our NEW 2.0 Software.
TOUGHLIQUID ARGB Sync
The TOUGHLIQUID ARGB Sync follows in the series designed more budget-friendly, adding some RGB instead of an LCD screen, gain great performance with our high-performance TOUGHFAN 12 radiator fans with 2,000RPM for strong airflow and enhanced radiator cooling. The TOUGHFAN utilized the same fan bearing and blades as the ULTRA series for superior cooling performance and quiet operation. This ARGB Sync Edition also uses the same upgraded radiator with more fin surface area and will be available in 240mm, 280mm, and 360mm form factors.
Six addressable LEDs are embedded in the pump block. Featuring a copper cold plate design and rotatable LED cap with 360° rotational orientation. Built-in controller integrated with the water saves space without the need for an external controller to manage, allowing users to connect and set lighting modes, speeds and colors. SYNC UP the TOUGHLIQUID ARGB to a variety of 5V+ capable motherboards for easy SYNC and control of the RGB all from one software.
Backed by a limited 2-year warranty, TOUGHLIQUID ULTRA, and TOUGHLIQUID ARGB Sync will be available in the USA and Canada in Q1 2021.
Product images can be downloaded, https://bit.ly/3hSuxNN
MSRP:
TOUGHLIQUID ULTRA 240: $209.99
TOUGHLIQUID ULTRA 360: $239.99
TOUGHLIQUID ARGB 240 $119.99
TOUGHLIQUID ARGB 280 $129.99
TOUGHLIQUID ARGB 360 $149.99
CES 2021 and Thermaltake Expo
While CES 2021 moves to an all-digital experience, Thermaltake will launch their new products by hosting Thermaltake Expo on 1/11/2021 at 10 AM Pacific Standard Time on the YouTube channel. TOUGHLIQUID series, more PC cases, power supplies, and gaming peripherals will be revealed with live demonstrations.
Watch Thermaltake Expo at the link below:
https://www.youtube.com/user/Thermaltakereview
One-on-One Online Meetings with Thermaltake
Media, industry analysts, influencers, and YouTubers are all welcome for a one-on-one video conferencing with Thermaltake for product highlights and expert insights during CES week and January 2021. Meeting by appointment only, please contact Andrew Ouyang on behalf of Thermaltake USA at andrewouyang@ideecreatives.com
About Thermaltake
Thermaltake launched in 1999, first specializing in air cooling and successfully debuting the world's first turbine air cooler, the "Golden Orb". Since then, Thermaltake has taken the world by storm and become the leader in computer hardware and peripherals in the DIY PC market. Homing in on their 3 main lines ("Key 3"), Thermaltake delivers seamless cases, power supplies, and cooling products.
The "Key 3 Spirit" represents Thermaltake's promise toward its users; the promise to provide products that display "Quality Performance & Reliability." The "Key 3 Spirit" is the foundation for all Thermaltake products and is the reason for Thermaltake's continuous success worldwide. Learn more at http://www.thermaltake.com
Follow Thermaltake USA
Facebook: https://www.facebook.com/ThermaltakeNA
Instagram: https://www.instagram.com/thermaltakeusa
Twitter: https://twitter.com/Thermaltake
YouTube: https://www.youtube.com/c/ThermaltakeNorthAmerica
Website: https://www.thermaltakeusa.com
LCGS (Liquid Cooling Gaming Systems): https://lcgs.thermaltakeusa.com
Media Contact
Andrew OuYang
iDée Creatives Marketing Consulting Inc. on behalf of Thermaltake USA
andrewouyang@ideecreatives.com