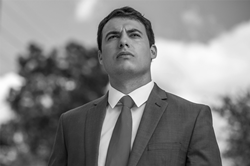 I'm thrilled to receive this honor. My team of attorneys and our staff focus on obtaining the fair and equitable results our clients deserve.
SAN ANTONIO (PRWEB) November 10, 2022
Cesar Ornelas, a nationally recognized Texas personal injury attorney who has recovered millions of dollars in verdicts and settlements on behalf of his clients, today announced he has been recognized by 2022 Super Lawyers® Rising Stars, a trusted legal ranking guide developed through a multiphase selection process.
The objective of Super Lawyers, part of Thomson Reuters, is to create a comprehensive, diverse, and credible listing of outstanding attorneys. The list serves as a resource for attorneys and consumers searching for legal counsel. The annual selections are made using a patented approach that includes a statewide survey of lawyers, independent research evaluation of potential candidates, and peer reviews. Rising Stars are under 40 years old or have been in practice for less than 10 years.
Those singled out to be included are made on a state-by-state basis and the rating service showcases outstanding lawyers from more than 70 practice areas. These attorneys are well-regarded by their peers and have garnered honors, results, or credentials indicating a high degree of professional competence. Importantly, only 2.5 percent of attorneys in Texas are selected by the research team at Super Lawyers to be included in the Rising Stars list.
"I'm thrilled to receive this honor. My team of attorneys and our staff focus on obtaining the fair and equitable results our clients deserve. My hope is this recognition will further demonstrate our commitment to excellence for our clients. I've devoted my entire career to giving a voice to the voiceless," said Ornelas, Principal at Cesar Ornelas Injury Law. "The wholly attorney-led Super Lawyers serves as an incredible resource nationwide. Honestly, as they say, just being nominated is an honor. I'm overwhelmed by this validation from my peers."
Originally from Kyle, Texas, Ornelas is a first-generation college graduate and a first-generation attorney. Born in Corpus Christi, Ornelas learned the value of hard work and discipline early on. Since graduating from St. Mary's Law School, he has been handling catastrophic personal injury and death cases since his first day in practice. He is a member of the Texas Trial Lawyers Association, a life member of both the Million Dollar Advocates Forum and the Multi-Million Dollar Advocates Forum, and was recently selected to be a part of The National Trial Lawyers Top 40 Under 40.
Cesar Ornelas Injury Law serves clients nationwide with offices in San Antonio, El Paso, Midland, Odessa, and Laredo, Texas as well as Carlsbad and Hobbs, New Mexico.
For more information please visit http://www.cesarornelaslaw.com.
####
About Cesar Ornelas Law
Cesar Ornelas Law is a leading personal injury law firm representing clients nationwide.
Licensed in Texas, Cesar Ornelas's nationwide legal practice is entirely contingency fee-based and consists of a wide variety of catastrophic personal injury and wrongful death cases.
Cesar Ornelas has represented countless victims of catastrophic accidents across the United States. To learn more, visit https://cesarornelaslaw.com/ or call (855) 710-4912.