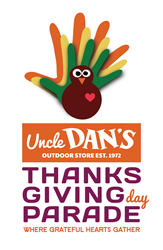 CHICAGO (PRWEB) October 24, 2018
CFA Events has teamed up with businessman, television personality, philanthropist and Chicago's own Marcus Lemonis for a multi-year sponsorship of the Chicago Thanksgiving Parade. As part of the Camping World Holdings family, the leading outdoor and camping retailer, the title sponsorship will be held by Uncle Dan's Outdoor Store, a specialty retailer of outdoor gear, apparel and camping supplies.
After losing hope of having a title sponsorship this year, CFA Events reached out to Marcus Lemonis in a last ditch effort to essentially save the parade. In typical Lemonis fashion, he did what he is best known for in his show "The Profit," on CNBC and offered an investment and his expertise to the Parade at the 11th hour.
The announcement was made on WGN-TV's morning show Tuesday morning with the official name of the parade now as Uncle Dan's Thanksgiving Day Parade. Sharing similar values of uniting the community and celebrating the great city of Chicago, CFA Events is delighted that Marcus Lemonis and his team are joining the Parade family. Although the name of the parade has changed, the years of tradition, merriment and overarching theme remain the same. With Lemonis' emphasis on people-first, the tag line already in place for this year's parade is especially fitting: Where grateful hearts gather.
"We are proud to partner with a family-friendly, local business that truly cares about people. As an event that appeals to people of all ages, this partnership was a natural decision for everyone involved. We couldn't be happier about the way the title sponsorship turned out this year and welcome Marcus and his team with open arms," says Phil Purevich, CFA Events director.
2018 marks the 85th Chicago Thanksgiving Day Parade where over 400,000 attendees will gather from all over the world to see 12 floats, 24 marching bands, 12 equestrian units, 36 performance groups, and so much more.
"We are looking forward to an amazing partnership. We feel our brands align nicely with the celebration and the inclusive theme of the parade. Uncle Dan's is a family-friendly outdoor gear and apparel shop that outfits families for every adventure, whether it's right here in Chicago or the backcountry. It's an exciting start of something really cool," says Marcus Lemonis.
The Uncle Dan's Thanksgiving Day Parade will be broadcast live nationally on WGN America and in Chicagoland on WGN9. And be sure to follow @ChiParade on Twitter, Instagram and Facebook for exclusive behind the scenes footage, giveaways and exciting updates.
ABOUT UNCLE DAN'S
Uncle Dan's adventure began in 1972 with a simple goal: to help outfit you and your family to explore the outdoors. With thoughtfully curated collections at each of its 9 locations in the Midwest, Uncle Dan's specializes in excellent customer service, premier all-weather apparel and travel gear for adventures big and small. With brands like Patagonia, The North Face, Arc'teryx, Merrell, and SmartWool, Uncle Dan's offers quality products for all adventures - whether hiking in the mountains, backpacking through Europe or navigating cold winters. https://www.udans.com/
ABOUT MARCUS LEMONIS
Marcus Lemonis is an entrepreneur, investor, television personality, and chairman and CEO of Camping World Holdings as well as Marcus Lemonis LLC.
Lemonis is known as the "business turnaround king" and host of CNBC's prime time reality series, The Profit, in which he lends his expertise to struggling small businesses around the country and judges' businesses based on a "Three P" principle: People, Process, and Product. The Profit returns on Tuesday, December 4th at 10pm ET/PT on CNBC.
More information about Marcus Lemonis can be found at http://www.marcuslemonis.com, Facebook https://www.facebook.com/marcus.lemonis and Twitter @MarcusLemonis.
ABOUT CFA EVENTS
CFA Events is a dynamic event production company, specializing in parade production, large scale event production and live television production. Phil Purevich, executive producer, has led the Chicago Thanksgiving parade since 1997.