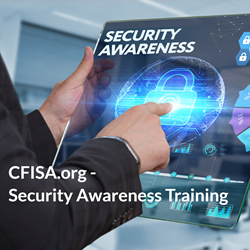 Security awareness training does not need to be complicated and for many of our customers our training is exactly what they need at a price to fit their budget
Boca Raton, Florida (PRWEB) August 16, 2017
Center for Information Security Awareness (CFISA.org), based in Boca Raton, FL, is pleased to announce the release of several new and updated online security awareness training course options. These new updated "security awareness training made simple" course options provide 16 separate lessons, which cover key information security issues that can impact the workplace. All online CFISA courses include a certificate of completion. A full course addressing PCI-DSS credit card compliance security awareness training is also now available. Those interested can contact CFISA by filling out a form on their website.
Michael Levin, CEO and Founder of CFISA, says: "We are very excited to provide our new and updated security awareness training made simple course options and services to our customers. Since phishing and ransomware are now clearly such a significant risk to all businesses, we have incorporated this into all our lessons. We have also included the security of social media and the Internet of things as an integral part of our training."
Levin added "Our customers have asked for shorter course blocks and we now have several new course options. Security awareness training does not need to be complicated and for many of our customers our training is exactly what they need at a price to fit their budget "
Security Awareness Training Made Simple
The 16 updated lessons include current training on ways to protect against cyber security threats in the workplace including: phishing and ransomware scams, email security best practices, understanding social engineering, regulatory PCI and HIPAA compliance, workplace physical security, effective password practices, safer Internet practices, social media security, as well as laptop and device security.
A growing number of reports, have identified employees and other insiders as the cause of most data security breaches. Better day to day security awareness practices along with security awareness training are central to reducing these incidents.
Based on customer requests, CFISA will now also offer two different course lesson options that provide the training in different levels of time allotments. The new CFISA courses will provide various options based on customer needs and the size of the organization.
CFISA currently has a wide variety and diverse blend of customers using their valuable training. These include federal, state and local government agencies; colleges and universities; hundreds of small, medium and large enterprises; and many financial institutions.
CFISA provides the online training in several delivery mechanisms including hosting the training on their site. They also provide the lessons in SCORM compliant learning management system (LMS) format to be hosted by their customers. Those interested can also view the CFISA Facebook page for further information.
To celebrate the release of the new course lessons, CFISA is offering special pricing options for all new customers and businesses of all sizes. New customers are encouraged to fill out their Request a Quote form on their website to receive additional information and pricing.
About the Center for Information Security Awareness (CFISA)
The Center for Information Security Awareness - CFISA was formed in 2007 by a group of leading academics, security and fraud experts to explore ways to increase security awareness among a number of audiences, including consumers, employees, businesses and law enforcement. CFISA provides online and on-site in person security awareness training.
Interested customers can use the Request a Quote form on the CFISA website to receive additional information and pricing. More information can be found on the CFISA website http://www.cfisa.org