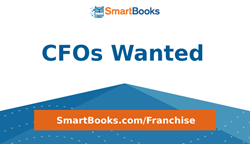 CONCORD, Mass. (PRWEB) June 09, 2021
CFOs Wanted
The target franchise owner is an experienced CFO with at least 10 years of corporate or non-profit finance leadership experience who wants to explore alternatives to the traditional solo consulting path. The SmartBooks Franchise enables franchisees to provide Fractional CFO services to small business owners while building a scalable outsourced finance and accounting business leveraging the systems, tools, and processes SmartBooks has honed over the past 12 years.
When you invest in a SmartBooks Franchise you get:

A home-based business with a modest initial investment, low overhead, and a scalable recurring revenue business model.
Access to The Financial Operating System®, including training on how to conduct The Financial Operating System® Bootcamps and implementing The Financial Operating System® with clients.
Training, coaching and support in establishing your business as a provider of Fractional CFO services to small business owners.
Support with providing and deriving income from bookkeeping, accounting, payroll, HR and tax services.
Sales, marketing and business development to help you build your business. You know how to wear many hats as a CFO, but sales and marketing is usually not one of them. To help you succeed, we will show you the SmartBooks Way Sales Process and support you with building your client base.
SmartBooks was started in 2009 by husband and wife Calvin and Jenny Wilder. They started the business in their Massachusetts condo with a simple conviction: "Small business owners deserve better from their finance and accounting." Calvin did all of the bookkeeping and CFO work while Jenny was doing business development. Over time, they hired and built out a team and added additional service lines to support growing client demand. Today SmartBooks has around 40 team members in the US as well as in our Shared Services Center in Jamaica. From day one, Calvin and Jenny had a vision to build a national brand serving the needs of thousands of business owners across the country, and today they are excited to take steps to make that vision a reality through the franchise business model.
If you're interested in becoming a Fractional CFO and building your own outsourced finance and accounting business, contact Jeff Provost at jprovost@smartbooks.com or 978-905-6346. Visit our website at https://smartbooks.com/franchise.