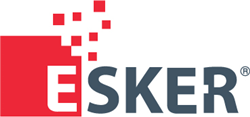 Esker stood out as a reputable, distinguished company that is leading the way in the technologies that help companies achieve that efficiency.
MIDDLETON, Wis. (PRWEB) June 18, 2019
Esker, a worldwide leader in AI-driven process automation solutions and pioneer in cloud computing, today announced that CFS Brands has partnered with Esker to automate its accounts receivable (AR) processes. In 2016, CFS Brands, then Carlisle FoodService Products, worked with Esker to automate the company's order management process. This latest project will complete the automation of CFS Brands' entire order-to-cash (O2C) cycle.
"We're in a mode of continuous improvement, so we're always looking for a better, more efficient way to do what we do and focus on more value-added activities," said Terence Hayes, Director of Credit and Collections at CFS Brands. "Esker stood out as a reputable, distinguished company that is leading the way in the technologies that help companies achieve that efficiency."
CFS Brands initially focused on the front end of its O2C cycle. In 2016 the company was looking to improve its labor-intensive process that involved manually keying more than 1,000 customer orders each day.
Within six months of implementing Esker's Order Management automation solution, CFS Brands was able to automate more than 90 percent of orders, freeing up bandwidth on the customer service team to help customers with expansions and provide product recommendations to complement prior purchases. The company saw such significant benefits that its Director of Customer Care, Johnny Peterson, participated in Esker's user conference in 2018 to share his experience.
Automating the entire O2C cycle
Over the past several years, CFS Brands has experienced significant growth, which is driving the need to achieve similar efficiencies in its AR processes. It was also looking for a solution compatible with the IBM iSeries AS/400 that offered a more user-friendly interface.
"With the growth that's going on and the future plans for the business, now is really the time to try to take steps forward on the AR management side," Hayes said. "We need a solution that will help us be more efficient and organized — one that will provide greater visibility into collections activities."
CFS Brands has chosen to work with Esker once again to complete the automation of its O2C cycle and is looking forward to the following benefits:

Easy access to reporting on metrics like Days Sales Outstanding (DSO) and the collections efficiency index — what's collected versus what was available for collections — for real-time insight that can be reported back to executives.
Access to Esker's portal, which will give managers greater visibility into the activities of each team member, the ability to hold them accountable and opportunities for coaching and training.
Self-service options for customers to collect payments more quickly, resolve disputes faster and ultimately reduce DSO.
Automated dunning reminders that will alert customers when an invoice is past due, replacing a time-intensive manual process.
"I'm confident in the Esker solution," Hayes said. "I look forward the opportunities the system will provide to improve our customer service while creating efficiencies that will benefit the business."
About CFS Brands
CFS Brands is the parent company of Carlisle FoodService Products, San Jamar, Dinex, Sparta Brush, Marko and Snap Drape — all leading brand names in the foodservice, healthcare and janitorial markets.
About Esker
Esker is a worldwide leader in cloud-based document process automation software, helping financial and customer service departments digitally transform their purchase-to-pay (P2P) and order-to-cash (O2C) cycles. Used by more than 6,000 companies worldwide, Esker's solutions incorporate technologies like artificial intelligence (AI) to drive increased productivity, enhanced visibility, reduced fraud risk, and improved collaboration with customers, suppliers and internally. Esker operates in North America, Latin America, Europe and Asia Pacific with global headquarters in Lyon, France, and U.S. headquarters in Madison, Wisconsin. For more information on Esker and its solutions, visit http://www.esker.com. Follow Esker on Twitter @EskerInc and join the conversation on the Esker blog at blog.esker.com.