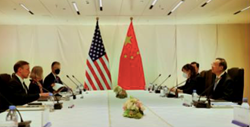 WASHINGTON (PRWEB) October 07, 2021
CGTN America releases "China, U.S. Agree to Take Action to Bring Ties back to Right Track after Switzerland Meeting"
Senior Chinese and U.S. officials agreed to work together to improve ties between the world's two largest economies.
Yang Jiechi, a member of the Political Bureau of the Communist China (CPC) Central Committee, and Jake Sullivan, U.S. National Security Advisor, held a closed-door meeting in Zurich, Switzerland Wednesday, October 6. Both sides described the talks as "candid," "comprehensive" and "constructive."
"When China and the United States cooperate, the two countries and the world will benefit," said Yang, who is also China's highest-ranking diplomat. "When they are in confrontation, the two and the world will suffer seriously," he added. China, Yang said, opposes the idea of defining the relationship as "competitive."
The meeting reinforced positive momentum generated by the September 10 phone call between Chinese President Xi Jinping and U.S. President Joe Biden. The two heads-of-state agreed to strengthen strategic communication and avoid confrontation and conflict. Yang said China also attached importance to Biden's declaration at the UN that the U.S. is not seeking "a new Cold War" with China.
The Chinese team stood firm on issues related to Taiwan, Hong Kong, Xinjiang, Tibet, human rights, and the South China Sea, noting concerns raised by Sullivan. The U.S. team said Washington remained committed to its longstanding One-China policy.
The two sides also exchanged views on climate change – an issue for which there are strong overlapping interests.
"Whether China and the United States can handle their relations well bears on the fundamental interests of the two countries … as well as the future of the world," said Yang.
Click here to read more about "China, U.S. Agree to Take Action to Bring Ties back to Right Track after Switzerland Meeting" https://newseu.cgtn.com/news/2021-10-07/Senior-Chinese-and-U-S-officials-hold-frank-comprehensive-talks--149akjhzZQs/index.html
This material is distributed by MediaLinks TV, LLC on behalf of CCTV. Additional information is available at the Department of Justice, Washington, D.C.