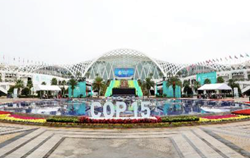 WASHINGTON (PRWEB) October 13, 2021
FOR IMMEDIATE RELEASE: CGTN releases "China Unveils New Measures to Preserve Biodiversity at COP 15"
China pledged to take "vigorous measures" to preserve the world's biodiversity at the UN Biodiversity Conference (COP15) underway in Kunming, China. The conference will discuss ways to build an "ecological civilization" – a philosophy proposed by China.
Speaking by video link on Tuesday, Chinese President Xi Jinping said the concept of ecological civilization will be integral to China's development. "Ecological progress is integrated into all aspects and the whole process of China's economic and social development," Xi said. 
Xi announced that China will spearhead this effort by creating a 1.5-billion-yuan (around $233 million) Kunming Biodiversity Fund. He said the fund will support biodiversity conservation in developing countries.
China will strengthen biodiversity protection at home to help create a beautiful China, establishing special protected areas in China's national park system. Other steps to preserve biodiversity will include accelerated development of renewable energy technologies as China pursues carbon neutrality.
By some estimates, animal, plant, and insect species are disappearing 100 times faster than they would without human activity. The last time this many species disappeared was around 65 million years ago. Fifty percent of the Earth's plants and animals disappeared – possibly due to climate change. Some scientists and conservationists say a "mass extinction" is underway and call the loss of biodiversity "biological annihilation."
Harmony between human activity and Nature is critical for humanity's survival. "When we take care to protect Nature, Nature rewards us generously; when we exploit Nature ruthlessly, it punishes us without mercy," Xi warned.
In Kunming, China's Minister of Environment and Ecology assumes the rotating presidency of COP 15.
Click here to read more about "China Unveils New Measures to Preserve Biodiversity at COP 15"
https://news.cgtn.com/news/2021-10-12/Xi-addresses-COP15-leaders-summit-via-video-link-14iuyQtyg48/index.html
(This material is distributed by MediaLinks TV, LLC on behalf of CCTV. Additional information is available at the Department of Justice, Washington, D.C.)