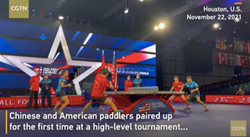 WASHINGTON (PRWEB) November 23, 2021
CGTN America releases "Chinese & U.S. players join forces for mixed doubles exhibition before 2021 WTTC"
In 1971, Chinese and American table tennis champions made history, playing a series of matches in China hailed as "Ping Pong Diplomacy." Table tennis had broken the ice in a long Cold War. A half century later, Chinese and American champions have made history again.
For the first time ever, the two sides played with each other – on the same teams – in a friendly mixed doubles exhibition in Houston, the host city for this year's World Table Tennis Championships (WTTC).
Can table tennis help reset the course of geopolitics between the world's two largest economies? Before the exhibition, 2020 Olympic champion, Wang Manyu, focused on the competition without discussing politics.
"There are a lot of uncertainties in mixed doubles, but the two of the us will still go out to fight each match," said Wang.
Wang paired with U.S. Olympian, Kanah Jha – a 21-year-old American of Indian origin who won four consecutive U.S. national titles. Jha acknowledged the match's symbolism. "It plays a huge role in becoming friends and easing tensions," Jha said.
China's Ambassador to the U.S., Qin Gang, sent best wishes on Twitter. "50 years after 'Ping Pong Diplomacy,' Chinese and U.S. players are teaming up for mixed doubles at World Table Tennis Championships in Houston," he wrote. "Wish them good luck in the coming games."
Chen Xingtong, a previous gold medalist in both the World Cup and Asian Championships, said: "I hope that the friendship between China and the U.S. will last forever."
The world's number one player in men's singles, Fan Zhendong, spoke like a seasoned diplomat when he said: "I feel very happy to participate … and then I wish all the athletes have a satisfactory performance."
Even organizing this groundbreaking event required an unusual degree of cooperation – with the Chinese Table Tennis Association (CTTA) and the U.S. Table Tennis Association (USTTA), jointly applying to the International Table Tennis Federation (ITTF) to make it happen.
This material is distributed by MediaLinks TV, LLC on behalf of CCTV. Additional information is available at the Department of Justice, Washington, D.C.