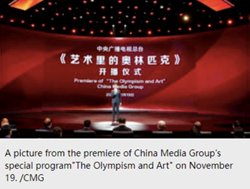 WASHINGTON (PRWEB) November 19, 2021
CGTN America releases CMG Special Program: 'The Olympism and Art' – officially launched on Friday
China Media Group (CMG) launched its special two-part program, "The Olympism and Art," Friday, November 19, on CCTV-16 – CMG's Olympic Channel. Part Two airs Saturday, November 20.
Ahead of the 2022 Beijing Winter Games, CMG celebrates China's unique fusion of Olympic athleticism and art. In 2008, the Beijing Summer Olympics began with one of the most breathtaking opening ceremonies ever witnessed. The four-hour spectacle celebrated Chinese civilization with a visual artistry considered the most spectacular in Olympic history.
"The [CMG] program also selects the representative works of art in the development of the Olympic process, the classical paintings of ancient China embody movement and the works of art related to the previous Olympic Games to convey the Olympic spirit through various video presentations," said CMG President Shen Haixiong.
Also attending the premiere were Lu Yingchuan, Vice minister of China's Ministry of Culture and Tourism, and Yu Zaiqing, the vice president of the International Olympic Committee. They were joined by Chinese Olympic champions, Lang Ping, Zhang Hong, Deng Yaping and Ma Long.
The first modern Olympics in 1896 were held in Greece – the birthplace of the ancient games. In February 2022, Beijing will become the first city in modern times to host both the Summer and Winter Games.
"The Olympism and Art" aired on CCTV-16 at 8 pm on November 19 and 20, respectively.
Click here to read more about CMG's special program: 'The Olympism and Art"
https://news.cgtn.com/news/2021-11-19/CMG-s-special-program-The-Olympism-and-Art-launched-Friday-15k5NuqjyPm/index.html
(This material is distributed by MediaLinks TV, LLC on behalf of CCTV. Additional information is available at the Department of Justice, Washington, D.C.)