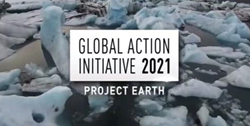 WASHINGTON (PRWEB) November 03, 2021
CGTN America releases "Global Action Initiative 2021 – Project Earth"
The "Global Action Initiative 2021 – Project Earth" has been launched, running from November 2 to 6.
Day One special program focused on the big picture – the key reasons behind scorching temperatures, rising sea levels and deadly storms that have increasingly become the norm.
The programming started off with a speech by Shen Haixiong, the president of China Media Group, where he stressed the importance of the media role in raising public awareness about climate change. Qin Gang, China's Ambassador to the United States, answered questions on climate change and the need for Sino-U.S. cooperation.
We also heard from the President of Sierra Leone, Prime Minister of Iceland, the environment ministers of Ecuador and Egypt, senior officials from the International Monetary Fund, the World Bank, and the United Nations.
That was followed by the premiere of the documentary - "Zero Hour - Climate Change in China", examining the impact of the climate crisis across the world featuring young people and their ideas and solutions to mitigate the impact of climate change.
Day Two's event will talk about the critical need to protect our biodiversity – a complex network of species that fuels life on our planet. Our panelists will discuss specific efforts to save our ecosystem and prevent more life forms from extinction. We'll also hear about China's efforts to prevent degradation and bolster its natural habitat.
Following that, we will play the documentary – "Zero Hour: Climate Change in the United States" showing students who are raising the alarm about climate change on university campuses across the U.S.
At a time when extreme weather patterns are rapidly becoming the norm, we seek context, perspective and solutions. To watch the live broadcast of the program in real time, please click https://www.cgtn.com/tv
For more information about the 2021 Global Action Initiative, please follow https://america.cgtn.com/gai/gai.html
This material is distributed by MediaLinks TV, LLC on behalf of CCTV. Additional information is available at the Department of Justice, Washington, D.C.