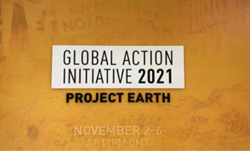 WASHINGTON (PRWEB) November 04, 2021
The second day's event detailed the impact of climate change on our planet's biodiversity - a complex network of species that fuels life on Earth. Our guests discussed specific efforts to save our ecosystem and prevent more life forms from extinction.
We heard from the director of the UN Environment Program, Neville Ash about the urgent need for countries to protect their natural habitats. He also detailed China's efforts to prevent environmental degradation and bolster its biodiversity.
Following the discussion, we played the documentary – "Zero Hour: Climate Change in the United States" – an in-depth look at students across the U.S. raising the alarm about climate change on university campuses.
Day Three's event will focus on rising sea-levels and the media's role in responding to extreme weather. We filmed the show on location along the Chesapeake Bay in Maryland. That region is a microcosm for climate change where warmer waters and threats to wildlife have put the area at risk.
We'll then premiere our documentary – "Zero Hour: Climate Change in Europe" highlighting efforts by a new generation of scientists to find solutions as the continent is hit by droughts, floods, and tidal surges.
For more information about the 2021 Global Action Initiative, please follow https://america.cgtn.com/gai/gai.html
This material is distributed by MediaLinks TV, LLC on behalf of CCTV. Additional information is available at the Department of Justice, Washington, D.C.