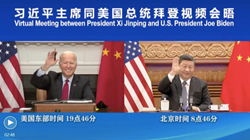 WASHINGTON (PRWEB) November 16, 2021
CGTN releases "Xi-Biden meeting: Taiwan question, trade, climate change top agenda"
Chinese President Xi Jinping and U.S. President Joseph R. Biden Jr. have pledged to maintain close contacts to stabilize what is widely considered "the most important bilateral relationship of the 21st century."
In a virtual meeting described as "candid, constructive and productive," President Xi said he was ready to work with President Biden to build consensus.
While emphasizing cooperation during their three-and-a- half-hour exchange, Xi also drew a distinction between internal "domestic affairs" and shared "international responsibilities" that include "climate change, global public health, energy, and industrial and supply chain security."
"China and the U.S. need to increase communication and cooperation, each run their domestic affairs well and, at the same time, shoulder their share of international responsibilities, and work together to advance the noble cause of world peace and development," Xi said.
To safeguard peace for the entire world, Xi said this "new era" in China-U.S. great power relations must be built on three principles: "mutual respect," peaceful coexistence," and "win-win cooperation."
Xi also expressed hope that Biden will exercise "political leadership" to get Washington's China policies back on a "rational and practical" track.
Regarding Taiwan – "the most important and sensitive issue in China-U.S. relations" – Xi underscored that achieving the country's complete reunification is an aspiration shared by the Chinese nation. "Should the separatist forces for Taiwan independence provoke us, force our hands or even cross the red line, we will be compelled to take resolute measures," he said.
Biden reaffirmed the U.S. government's long-standing commitment to a "one-China" policy.
To manage the "complex nature" of competition between the world's two largest economies, Biden said: "The two sides need to have open and candid dialogues to enhance understanding of each other's intentions, and make sure that competition between the two countries is fair and healthy and does not veer into conflict."
Both sides rejected any prospect of a "new Cold War." President Xi said efforts to divide the world into "different camps or rival groups" would only "make the world suffer."
Click here to read more about "Xi-Biden meeting: Taiwan question, trade, climate change top agenda."
https://news.cgtn.com/news/2021-11-16/Xi-Biden-meeting-Taiwan-question-trade-climate-change-top-agenda-15eAZVw5uLK/index.html
(This material is distributed by MediaLinks TV, LLC on behalf of CCTV. Additional information is available at the Department of Justice, Washington, D.C.)