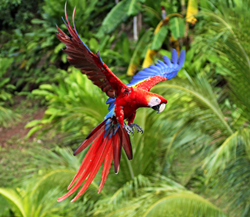 young people around the world have a lot of pent-up energy right now.
SAN IGNACIO, Belize (PRWEB) April 21, 2020
Belize's The Lodge at Chaa Creek has launched an international arts competition to encourage young artists to use their newfound indoor time constructively, and to help remind the world of nature's beauty.
"With the Coronavirus pandemic forcing schools to close and many people to stay indoors, young people around the world have a lot of pent-up energy right now. We want to help put that youthful energy to good use," Bryony Fleming Bradley, Chaa Creek's managing director said.
"We also want to encourage young people to think about the beauty of the natural world outside, and invite them to use their talents to express that beauty.
"So many young people are doing the right thing by staying indoors. And that's something we want to acknowledge and reward with The Lodge at Chaa Creek's Color Belize Art Competition," Ms Bradley explained.
The competition, which runs from April 15 to July 15, 2020 is open to young people seven to fourteen years of age, regardless of where they live, as long as they can create colourful depictions of their favourite Belizean wildlife.
"Belize is filled with beautiful, exotic wildlife, from toucans, parrots, macaws and other birds, to big cats like jaguars and cougars, to monkeys, tapirs, armadillos, and butterflies. And our Caribbean waters are filled with dolphins, rays, gorgeous whale sharks and colourful tropical fish.
"If you live in or have visited Belize, you probably already have a favourite bird, fish or other animal, and if you haven't, you can use your imagination or books or go online for inspiration," she said.
To enter, young people are encouraged to draw, paint, sketch, or use any medium they wish to capture the look and feel of their favourite wildlife creature, as long as it's an animal native to Belize. The images must be available for submission on canvas, paper, or art sheets that are at least 8.5 by 11 inches, Ms Bradley advised.
In addition to a full colour image, artists must include their full name with a short biography, a description of what medium and materials were used in creating the artwork, as well as a paragraph explaining what the artist loves about their favourite animal, or why that animal is important to them.
All entries must be accompanied by the name of a parent or guardian, with a short statement from them giving permission to enter the Color Belize Art Competition.
"Initially, we're accepting electronic copies emailed to our judges at marketing@chaacreek.com with "Color Belize Art Competition," in the subject line, but artists must keep the originals so that the winning works can be displayed at The Lodge at Chaa Creek for our guests to enjoy," she said.
Artists can enter as many times as they like, with three categories of prizes awarded to winners.
First Place - Three days and nights for a family of four, complete with guided visits to Chaa Creek's Belize Natural History Museum, Butterfly Farm, and the Maya Medicinal Plant Trail, as well as early morning birding walks, canoeing and tubing along the Macal River, and other activities.
Second Place - Two days and nights for a family of four with the same activities included in the first-place prize.
Third Place - Artists receive Chaa Creek tee-shirts and have their signed artwork hung alongside the first and second place winners at a special display at The Lodge at Chaa Creek.
Winners will be announced by August 1st, 2020.
"If you win, people from all over the world will be enjoying your artwork, so be sure to keep your originals safe," Ms Bradley advised.
"By staying inside, we're all working together to defeat this Coronavirus, and as soon as possible. And by entering this contest, you're helping people remember what we all have to look forward to after the pandemic is over.
"And you may even have an opportunity to treat your family to a great Belize vacation and see your favourite Belize animal in its natural surroundings," Ms Bradley said.
Ms Bradley added that interested parties can contact Chaa Creek directly to learn more about the Color Belize Art Competition.
The Lodge at Chaa Creek is a multi-award winning eco resort set within a 400-acre private nature reserve along the banks of the Macal River in Belize. It was recognised by National Geographic with first place honours at the 2017 World Legacy Awards held in Berlin.