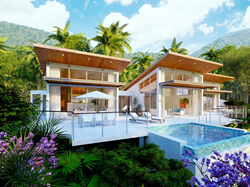 the health and safety of our guests, staff members and their families always come first.
SAN IGNACIO, Belize (PRWEB) May 20, 2020
With Belize the first, and still the only country in the Americas to be COVID-19 free, and with no new cases reported, The Lodge at Chaa Creek is busy preparing to welcome guests and a return to normalcy, the popular Belizean eco-resort's owners say.
Founding owners Mick and Lucy Fleming praised the government of Belize for early intervention measures, and the Belizean people for working together to maintain social distancing and other protocols. This is allowing for some restrictions to be eased and the tourism industry to plan for the future, they said.
"We've beginning to think about making the transition from containment and lockdown to opening up and welcoming visitors, and that's very exciting," Ms Fleming, a past president of the Belize Tourism Industry Association (BTIA), said.
"It's a challenging time in that we still need to be extremely careful about putting in place measures to safeguard the health of our visitors and staff, but there's a very positive atmosphere in Belize right now," she added.
With the country's effective handling of the pandemic, the hospitality industry may soon open to local tourism before international travel begins again.
During a May 14 virtual press conference, Belize's Prime Minister Dean Barrow flagged a partial easing of restrictions while cautioning that this should not be misinterpreted as "a free pass" to ignore those restrictions still in place.
"Today marks the thirty-first day without anyone testing positive for the novel coronavirus. We therefore are holding steady at eighteen, the total number of persons to have been infected in our country. Of these very sadly two have died but all the others have recovered so that Belize is now one of only twelve countries and territories in the entire world to be currently COVID-19 free. That is quite an achievement, it is not cause to declare victory," Mr Barrow declared.
"Our relative success so far is a reason for thanksgiving but it must not occasion carelessness or any false sense of security," he added.
Ms Fleming said Chaa Creek, along with many of their Belize tourism industry colleagues, is taking that cautious approach while remaining positive.
And busy.
While The Lodge at Chaa Creek and its Belize Rainforest Retreat have temporarily ceased accepting guests, work continues to maintain the sprawling eco-resort's infrastructure and the 400-acre private nature reserve the Flemings established around it.
"With all of our manicured grounds, tropical gardens, miles of rainforest trails and the traditional Maya Organic Farm that supplies our kitchens, daily groundskeeping remains as essential as ever," Ms Fleming said.
"Fortunately, Mick is still the passionate, indefatigable farmer he's been since back in the days when Chaa Creek was a working farm.
"Then there's the herd of horses, fleet of canoes, rooms, suites and villas, as well as the onsite Belize Natural History Museum, Butterfly Breeding Farm, restaurant, Hilltop Spa, pool, conference centre and other amenities to keep up, not to mention the grounds and buildings at the nearby Belize Rainforest Retreat.
"Except for the lack of guests, we're as busy as ever at Chaa Creek," Ms Fleming said.
And while the Fleming family hope to see Chaa Creek reopen as soon as possible, they, like all members of the global travel industry, are dependent on the timeframes of airlines and overseas governments.
"Of course, we're very anxious to be up and running again, but the health and safety of our guests, staff members and their families and communities always come first.
"In the forty years since we first opened our doors to guests we haven't faced anything like this. But, fortunately, living in the midst of a beautiful rainforest while staying busy keeps us all healthy and positive.
"Beautiful birds, monkeys and other curious forest dwellers are coming around to check out what's going on – or not going on right now, so Chaa Creek still feels very much alive.
"However, we do miss all those visitors from all around the world who for so many years have been the beating heart of Chaa Creek.
"So, in the meanwhile we'll just keep working to be ready to welcome travellers with the same quality lodgings, amenities and healthy activities we've offered for so many years.
"I'm sure we're all looking forward to that day," Ms Fleming said.
The Lodge at Chaa Creek is a multi-award winning eco resort set within a 400-acre private nature reserve along the banks of the Macal River in Belize. It was recognised by National Geographic with first place honours at the 2017 World Legacy Awards held in Berlin.
ENDS