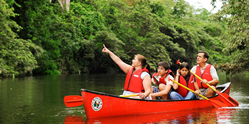 It's a chance to have the vacation of a lifetime, and return home richer for the experience
SAN IGNACIO, Belize (PRWEB) January 27, 2020
Belize's The Lodge at Chaa Creek is encouraging families to rethink their vacations as "Learning Adventures."
Denise Duran, the Belize eco-resort's public relations manager, said it's clear that many of today's families are looking to get more from their vacations.
"In recent years we've seen a trend towards more meaningful vacations; with travel that's focussed on healthy activities and opportunities to experience and learn new things together," Ms Duran said.
"It's a trend that fits in perfectly with Chaa Creek's emphasis on sustainable tourism," she added.
Learning adventures, Ms Duran explained, are simply vacations that offer opportunities to learn about the environment, cultures, art and history of host countries, or to pick up new skills.
And Belize has no shortage of things to discover, she said.
"We're fortunate to have such diverse geography, a multicultural society, and a rich, colourful history.
"Over a quarter of Belize's land and seas are set aside as protected wilderness. We have the world's second largest barrier reef, over a hundred small islands and a long Caribbean coast, all offering some of the best swimming, snorkelling, diving, kayaking, sailing and fishing on the planet.
"Combine that with huge swaths of pristine rainforests, rivers and waterfalls, the Maya Mountains, Mountain Pine Ridge, the Rio On Pools and much more, and visitors have an incredibly rich natural wonderland to explore and enjoy," Ms Duran said.
Chaa Creek features a 400-acre private nature reserve and a team of highly trained, licenced naturalist guides to introduce visitors to Belize's flora and fauna, and help make activities such as canoeing, horseback riding, nature walks, plant and wildlife identification and birding more interesting, she added.
"Birding, for example, has really taken off in recent years, and Belize is one of the best birding destinations in the world. For experienced birders it's an avian paradise, and for novices, our specialist birding guides make it easy to get into one of the most popular and fastest growing pastimes in the world."
Belize is also a great place to learn about cultures, Ms Duran said.
Chaa Creek's onsite attractions include The Belize Natural History Museum, a walk-through butterfly breeding enclosure, the Maya Rainforest Medicinal Plant Trail and the traditional Maya Organic Farm that supplies fresh produce for the resort's Mariposa Restaurant and downtown Guava Limb Café.
And there's plenty of culture just outside of Chaa Creek, Ms Duran said.
"We must be one of the most multicultural societies on the planet. During Chaa Creek's tours to the nearby San Ignacio Saturday market, for instance, you'll hear English, Spanish, Mayan, Creole, Garifuna, and Mennonite German all spoken.
"And ancient Maya sites like the beautiful pyramid temple of Xunantunich, the royal residence of Cahal Pech and the sprawling archaeological reserve of El Pilar are all close enough for short day trips."
"Nothing makes history come alive like walking through the remnants of one of the ancient world's most highly advanced civilisations," Mr Duran added.
"And paddling down the Macal River, just as the Maya did thousands of years ago, when it was part of the river trade routes that connected the highlands of Guatemala to the Caribbean Sea, really brings home what it was like to have lived back then."
Further afield, Chaa Creek also offers a wide selection of cultural tours, village visits, expeditions to ancient Maya temple sites and a comprehensive week long "Belize Grand Tour" that takes guests from traditional inland villages and a pastoral Mennonite community to the seacoast Garifuna village of Hopkins.
Belize's cultures are even highlighted in a unique approach to cooking classes.
A recent addition to Chaa Creek's onsite attractions, the "Open Hearth" offers guests a hands-on blend of culture and cuisine in a purpose built, representational village kitchen with daily cooking classes ranging from Mestizo Mondays to Maya Fridays.
Ms Duran emphasised that Learning Adventures also include plenty of fun and relaxation.
"Of course, having a great vacation means enjoying lots of relaxation, fun, and delicious meals together.
"Swimming and lounging around the infinity pool, enjoying a good book or conversation while swinging in a hammock, dining under the Mariposa restaurant's huge thatched roof, relaxing in the Jungle Lounge or having a massage or other professional care at the Hilltop Spa are all part of the Chaa Creek 'wildly civilised' experience.
"We want families to balance activities and relaxation, and come away feeling healthier and more in tune with nature and each other.
"That's the value of Learning Adventures - having a great time together while discovering new things and sharing exciting new experiences together," Ms Duran said.
She encouraged families to speak with their travel agents or contact Chaa Creek directly to learn more about how to turn a Belize vacation into a family learning adventure.
"It's a chance to have the vacation of a lifetime, and return home richer for the experience," Ms Duran said.
The Lodge at Chaa Creek is a multi-award winning eco resort set within a 400-acre private nature reserve along the banks of the Macal River in Belize. It was recognised by National Geographic with first place honours at the 2017 World Legacy Awards held in Berlin.
ENDS