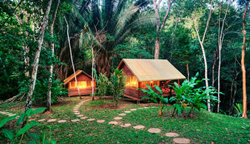 we're looking forward to working with groups to create something special
SAN IGNACIO, Belize (PRWEB) February 04, 2020
The Lodge at Chaa Creek has just announced the opening of a new group accommodations and meeting venue in a scenic rainforest setting in western Belize.
The Belize Rainforest Retreat at Chaa Creek is a new multipurpose rainforest venue for groups looking to stay, meet, work, or just relax in a tranquil jungle environment, the popular Belize eco-resort's managing director announced.
"After years of hosting numerous organisations, NGOs, large family celebrations and other gatherings, we recognised a growing need for a facility specifically set aside for groups," Bryony Fleming Bradley said.
The Belize Rainforest Retreat at Chaa Creek grew out of what had previously been the Macal River Camp. It continues with the "Wildly Civilised" style that has defined Chaa Creek for nearly forty years, yet with a new focus on group accommodations and activities, Ms Bradley explained.
"Meetings, seminars, teambuilding exercises, celebrations, professional and family gatherings can now be held in a dedicated area that's naturally beautiful, private, fully resourced, and close to all Chaa Creek amenities," She added.
The Belize Rainforest Retreat accommodations consist of ten "Eco-Pods" - small elevated cabins with large screened windows and porches offering rainforest views. With kerosene lamps providing soft, natural lighting, the Eco-Pods are designed to harmonise with the surrounding jungle.
A traditional airy, thatched-roof palapa is the central dining and meeting area with a host family on hand to serve refreshments and homecooked Belizean breakfasts, dinners and barbecues.
Ms Bradley said the Belize Rainforest Retreat is unique in that it offers privacy and an authentic jungle camp experience, yet is only a fifteen-minute stroll along a scenic trail to the Lodge at Chaa Creek's services and amenities, including a fully serviced conference centre.
Belize Rainforest Retreat guests are also welcome to enjoy an infinity pool, restaurant and lounge, the Hilltop Spa, and complimentary activities that include tours of the onsite Belize Natural History Museum and Butterfly Farm, the Maya Medicinal Plant Trail, and the traditional Maya Organic Farm.
Groups also have access to the miles of well-maintained trails crisscrossing the resort's 400-acre private nature reserve.
"The solar powered, lamp-lit Belize Rainforest Retreat is purposely off the grid so as not to disturb the birds and wildlife in the surrounding nature reserve. Guests can access miles of secure trails right from their Eco-Pods for nature walks, horseback rides, guided birding, or just casual strolls.
"And paddling the Macal River from the canoe landing is another enjoyable activity that brings you close to nature," Ms Bradley said.
In addition to onsite amenities and activities, a wide selection of tours and expeditions covering Belize from its Caribbean coast to inland attractions is also available.
Ms Bradley said Chaa Creek's Belize Inland Expeditions tour and transport company features a fleet of modern vehicles driven by licensed naturalist guides and connected to a nationwide network of travel colleagues to ensure safe, comfortable and reliable transportation throughout Belize.
"While guests can have a completely satisfying stay right here within our 400-acre nature reserve, the Belize Rainforest Retreat's location makes it a perfect and very affordable home base for exploring the rest of the country and region," Ms Bradley said.
To help groups get the most out of their stay, the Belize Rainforest Retreat also offers the complimentary services of experienced local event planners.
"Our event planners work with organisers to identify needs and goals, and then offer suggestions on how to meet them in the easiest, most cost-effective way possible.
"In short, a group tells us what they want, and one of our planners helps them make it happen. Organising meals, activities, transport and other needs is easier with local knowledge, and helps save time and money.
"That, and other services, as well as a secluded yet secure and convenient location, a wealth of exciting activities and quality amenities that ensure an effective, enjoyable and relaxing stay makes the Belize Rainforest Retreat a perfect choice for group get-togethers," Ms Bradley said.
To learn more and to secure bookings, she encouraged group organisers to visit the new Belize Rainforest Retreat website, and then speak with their travel agents or contact Chaa Creek directly to speak with an event planner.
"We're very excited about this new addition to Chaa Creek's range of services, and we're looking forward to working with groups to create something special with this beautiful rainforest venue," Ms Bradley said.
The Lodge at Chaa Creek is Belize's longest running eco-resort. Set within a 400-acre private nature reserve along the banks of the Macal River in Western Belize, it has been recognised with numerous honours, including a first place National Geographic World Legacy Award.