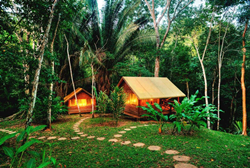 We felt a new year and a new decade deserved some fresh offerings
SAN IGNACIO, Belize (PRWEB) January 14, 2020
As if there weren't enough reasons to visit Belize this year, The Lodge at Chaa Creek has just announced some interesting additions to its range of attractions, tours and activities.
Bryony Fleming Bradley, the popular Belizean eco-resort's managing director, said management and staff had worked together last year to develop new ideas for 2020.
"We felt a new decade deserved some fresh offerings, so we reviewed our guest comments, asked management and staff for their input, and came up with what we think are some exciting new vacation options," she explained.
Ms Bradley said the one of the most significant new offerings for 2020 is The Belize Rainforest Retreat.
"We designed the Belize Rainforest Retreat to accommodate groups and provide a tranquil venue for meetings, workshops, team building exercises, family get-togethers and other events.
"It offers seclusion, but since it's only a short walk from The Lodge at Chaa Creek, guests can have an authentic jungle experience while still being close to all the amenities and casual luxury of the resort.
"It's our latest example of providing 'wildly civilised' experiences", Ms Bradley said.
Chaa Creek is also responding to a growing interest in Belize cuisine with the "Open Hearth" project, an onsite activity that combines learning about the country's individual cultures with hands-on cooking classes conducted in a traditional Belizean thatched-roof village kitchen.
Since it was introduced last year, the Open Hearth has become increasingly popular with visitors, Ms Bradley said.
With "Mestizo Mondays", "East Indian Tuesdays", Creole Wednesdays", "Garifuna Thursdays" and "Maya Fridays", visitors receive a brief introduction to Belize's cultures before learning to cook some of their most iconic dishes in a fun and supportive atmosphere, she explained.
"The Open Hearth's combination of culture and cuisine grew out of Belize's multiculturalism and my own love of Belizean cooking, and it's been so satisfying to see how many people are also interested in that combination," Ms Bradley said.
Combined with Chaa Creek's cultural tours, village visits and expeditions to ancient Maya temple and city sites, guests can come away with a rich cultural experience as well as some unique, interesting recipes, she added.
And the new Belize Rainforest Retreat makes it easy for groups with specific interests to enjoy these and other "learning adventures," she said.
"The Belize Rainforest Retreat provides simple, comfortable accommodation in ten Eco Pods, each one with private verandas looking out on beautiful jungle views.
"A central, thatched-roof palapa serves as a dining and common area, and with complete access to all of The Lodge at Chaa Creek's amenities and the miles of secure trails running through our 400-acre private nature reserve, groups enjoy both seclusion and convenience.
"The Belize Rainforest Retreat will suit a wide variety of groups and organisations looking for a unique, cost-effective venue for meetings, workshops, seminars and other events, or people just wanting to get together in a stunning natural setting," Ms Bradley said.
Also on offer for 2020 is a range of all-inclusive Belize vacation packages, tours and expeditions, including vacations that combine a rainforest adventure with a Caribbean island or beach holiday, she added.
"Chaa Creek's 'Belize Expeditions' touring company, our infrastructure, nationwide network of travel colleagues and 40 years of experience allow us to offer experiences no one else can, and at prices no one else can match," she said.
Ms Bradley encouraged families, couples, groups and individuals to visit Chaa Creek's website and Belize Travel Blog, and then speak to their travel agents or contact Chaa Creek directly.
"Our Belize travel experts are always available to help plan memorable vacations and visits. And since we always have something in the works, it's a good idea to check our website now and then, or join our mailing list for updates and specials.
"We're all really looking forward to a very exciting 2020, and hope our many friends and colleagues around the world are too," Ms Bradley said.
The Lodge at Chaa Creek is a multi-award winning eco resort set within a 400-acre private nature reserve along the banks of the Macal River in Belize. It was recognised by National Geographic with first place honours at the 2017 World Legacy Awards held in Berlin.