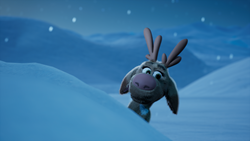 Music, talent competition shows, and Christmas magic all have something in common: an amazing power to bring families together
ATLANTA (PRWEB) December 04, 2020
From the director of "The Elf on the Shelf: An Elf's Story," Chad Eikhoff, comes the first-ever animated reality competition talent show set at The North Pole – The Jolliest Elf. While reality talent competitions have become a family entertainment mainstay, none have been animated and broadcast live from The North Pole – until now. From Chad Eikhoff and TRICK 3D Studios comes "The Jolliest Elf: Lil' Rey" on Amazon Prime, Amazon Kids+ and YouTube. "The Jolliest Elf Lil' Rey" serves as a pilot episode to showcase the concept for a full series coming in 2021. The novel concept is made possible thanks to Eikhoff utilizing real-time animation techniques from the makers of Fortnite (Epic Games), motion capture technologies and, of course, Christmas magic from The North Pole!
"The Jolliest Elf: Lil' Rey" introduces the North Pole's most charismatic elf, and the host of the show, Mr. Jingles! Additionally, viewers meet the star- and snowflake-studded cast of judges:

Glo – the most glamourous, superstar elf
Frosty – Mrs. Claus' Top Chef
Tiny – the toughest talent scout at The North Pole
These judges are tasked with finding The North Pole's Jolliest Elf. The pilot features one special contestant: Lil' Rey, an adorable and hugely talented young reindeer rapper who, despite being born without the ability to fly, has a special talent she shares with Mr. Jingles and the judges on The North Pole Stage. Lil' Rey's performance will keep viewers dancing, beat-boxing and overflowing with jolliness this holiday season! Her single, voiced by Macyn McMillian a/k/a Mac Sauce, and titled "Lil' Rey's Reindeer Rap" is now available on streaming music platforms everywhere.
"Music, talent competition shows, and Christmas magic all have something in common: an amazing power to bring families together to make and share memories," remarks writer and director Chad Eikhoff. "Lucky enough for us all, The North Pole has all three!"
Stream "Lil' Rey's Reindeer rap now on Spotify and watch "The Jolliest Elf: Lil'Rey" on Amazon Prime and YouTube.
For more fun activities, crafts and more, visit http://www.TheJolliestElf.com and subscribe to The Jolliest Elf on YouTube.
About TRICK 3D
TRICK 3D is a 3D animation + innovation studio. TRICK 3D's roots are in original and commercial 3D content production, most notably as the production studio that brought the holiday special-turned-classic "The Elf on the Shelf: An Elf's Story" to families everywhere. The studio's client roster includes Cartoon Network, CBS, CNN, Delta Air Lines, DreamWorks, Sprout (Universal Kids), The Make-A-Wish Foundation, Warner Bros. and many more.