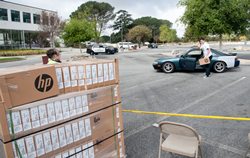 "We realize that not all of our students have access to the technology needed to successfully complete an online class, so we are adapting to these unprecedented circumstances by loaning them the tools they need to finish their classes." - Dr. Henry Shannon, superintendent/president
RANCHO CUCAMONGA, Calif. (PRWEB) March 24, 2020
Chaffey College loaned more than 1,000 laptops to students in need this week for the transition to online instruction due to the coronavirus outbreak.
Chaffey handed out the laptops in a drive-thru format at its Rancho Cucamonga, Chino and Fontana campuses.
"Our greatest concern is the health and safety of the campus community, and that is why we have decided to switch all classes online until further notice," said Chaffey College President/Superintendent Henry Shannon. "We realize that not all of our students have access to the technology needed to successfully complete an online class, so we are adapting to these unprecedented circumstances by loaning them the tools they need to finish their classes."
Chaffey College expects to receive 5,000 laptops altogether in the next week and will distribute them to students on a first-come-first-serve basis.
The loaners came in the nick of time for Elsie Edmond, a geology major who plans to transfer to a four-year university next spring. Because the pandemic caused her employer to place her on furlough, putting together funds to buy a laptop would have been a challenge.
"I am so grateful for the opportunity to have access to technology since I normally go to the library or borrow others' computers to complete my homework," she said.
For Danielle Dorotta, a speech pathology major, the need for a laptop is also crucial. It's her first semester and she's taking five courses, all which have transitioned online.
"My brother's high school gave him a Chromebook, so I was borrowing that from him when he didn't need it," she said. "When Chaffey offered to give us Chromebooks, I registered to get one," she said.
Psychology and deaf studies major Tiffany Kister said she didn't do well in her first two online courses, so hearing about the transition has made her nervous.
"The fact that they were willing to loan us laptops makes me a little more confident," she said. "It shows that they were willing to help us out even with all of this stuff that's going on."
Chaffey College has had no confirmed cases of coronavirus. In advance of recent state and federal guidelines the college extended its spring break for students by one week to run March 16-27 in preparation for the transition to an all-online modality.
All classes will transition online beginning March 30. In preparation for the switch, faculty received training to deliver courses remotely. Student support services, including admissions, financial aid and counseling, also moved online.
Chaffey has closed its campus to visitors until further notice and all events have been canceled through May 2.