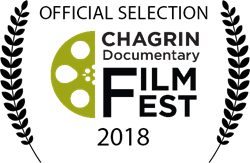 It has been our founding mission to empower talented filmmakers. We are proud to share their stories with our enthusiastic and engaged audience.
CHAGRIN FALLS, Ohio (PRWEB) August 11, 2018
The 9th Annual Chagrin Documentary Film Festival will screen 89 films during its annual event, October 3-7, at venues in and around Chagrin Falls.
The selected documentaries represent the work of filmmakers from 31 countries and focus on a wide range of thought-provoking topics. The presenting sponsor of the Festival is Cohen and Company, a nationally-recognized accounting firm.
Tickets go on sale Sept, 1 at http://www.chagrinfilmfest.org.
Multiple festival winners have been nominated for Academy Awards, while the festival itself has been named one of MovieMaker Magazine's "Top 50 Film Festivals Worth the Entry Fee" for a sixth consecutive year. The magazine credits the remarkable welcome which the Festival, and entire community, extends to visiting film directors.
"We are honored to present this compelling slate of documentaries at the 2018 festival. We're excited to share these important issues and inspirational stories with our audience.", said Festival Director Mary Ann Ponce, who founded the festival in 2010 to honor her son, David. "We are thrilled to be welcoming more than 70 filmmakers and subjects to the Festival."
This year CDFF is proud to celebrate 9 World Premieres, 12 Midwest Premieres, and 26 Ohio Premieres.
Special presentation films include:
Love, Gilda - Directed by Lisa D'Apolito (USA) (Festival Opening film) ; On Her Shoulders - Directed by Alexandria Bombach (USA). In partnership with the Cleveland Jewish Film Festival, Sammy Davis, Jr.: I've Gotta Be Me - Directed by Samuel D. Pollard (USA) will be screened.
Film buffs will be able to choose documentaries from the following categories this year:
Emerging Filmmaker:
"This category reflects our commitment to giving a voice to the first time filmmaker," said Ponce. "It has been our founding mission to empower talented filmmakers. We are proud to share their stories with our enthusiastic and engaged audience."
The films include: Aghanashini - Directed by Ashwini Kumar Bhat (India); Bathtubs Over Broadway - Directed by Dava Whisenant (USA); Becoming Marilyn Monroe - Directed by Tammy Plimmer (USA); Coby - Directed by Christian Sonderegger (USA, France); Drowning in Sand - Directed by Lucy Provan (Sudan); Elephant Path / Njaia Njoku - Directed by Todd McGrain (Central African Republic, USA); Farmsteaders - Directed by Shaena Mallett (USA); Fiddlin' - Directed by Julie Simone (USA); Live The Stream: The Story of Joe Humphreys Directed by Lucas Bell, Meigan Bell (USA); Manry At Sea ~ In the Wake of a Dream - Directed by Steve Wystrach (USA); Modified - Directed by Aube Giroux (Canada); New and Improved - Directed by Matt Heitman (USA); The Tree Prophet - Directed by Tucker Marder, Christian Scheider (USA);
Environmental Films:
Films which highlight an environmental or ecological theme include:
Bird of Prey - Directed by Eric Liner (USA, Philippines); Saving the Dark - Directed by Sriram Murali (USA); The Superfood Chain - Directed by Ann Shin (Canada);
Feature Documentaries:
These films include documentaries on any subject which are longer than 40 minutes in length.
Breaking the Bee - Directed by Sam Rega (USA); Enough White Teacups - Directed by Michelle Bauer Carpenter( Afghanistan, Denmark, Malawi, Netherlands, Norway, Rwanda, Switzerland, United Kingdom, USA); The Secret of Byron Preiss - Directed by James Renner (USA)
Human Spirit:
This category celebrates stories of those who are met with seemingly insurmountable challenges, and yet overcome. They are meant to inspire all of us. The films include:
Above The Drowning Sea - Directed by Rene Balcer, Nicola Zavaglia (Canada); Badass Beauty Queen - Directed by Theresa Kowall-Shipp (Canada); Defining Hope - Directed by Carolyn Jones (USA); Eva - Directed by Ted Green, Mika Brown (USA); The Hello Girls: The Army's Special Weapon in World War I - Directed by James Theres (USA); Lane 0 - Directed by Manuel Tera (Spain); Thriving with Cerebral Palsy: The Cordell Brown Story - Directed by Tina Johns (USA)
International Documentaries:
This category includes films which are either filmed outside of the US or highlight an important international issue. Accepted films include:
Holodomor: Voices of Survivors - Directed by Ariadna Ochrymovych (Ukraine, Canada); The Interpreters - Directed by Andres Caballero, Sofian Khan (USA, Turkey, Iraq, Afghanistan); Letter from Masanjia - Directed by Leon Lee (Indonesia, China, Canada); Lots of Kids, a Monkey and a Castle Directed by Gustavo Salmerón (Spain); Minden Replying - Directed by Maik Lüdemann (Germany, Malta); Transit - Directed by Mariam El Marakeshy (Turkey, Greece); When Lambs Become Lions Directed by Jon Kasbe (Kenya); When the Smoke Clears: A Story of Brotherhood, Resilience - Directed by Rebecca Shore (Israel, USA)
Local Interest:
The stories which focus on our own backyard, Ohio, will engage local history buffs or just those filmgoers who are proud of their home state. These films include:
Exact Change - Directed by Scott Plate (USA); Five Mayors of Chagrin Falls - Directed by Skip Church (USA); Foreclosing on Faith - Directed by Jeff MacIntyre, Viktoria Somogyi (Hungary, USA); A Murder In Mansfield - Directed by Barbara Kopple (USA); Roll Red Roll - Directed by Nancy Schwartzman (USA); Tripped Up - Directed by Laura Watilo Blake (USA); Wow Signal Directed by Bob Dawson (USA);
Local Interest Short Documentaries:
#CLE4DLC - Directed by Mike Ramsdell (USA); Beneath the Ink - Directed by Cy Dodson (USA); The Enlightenment Project - Directed by D'Angelo McCornell, Martel McCornell (Ghana, USA); Glass Bubble Project - Directed by Fernando Lopez (USA); Henry's Barn - Directed by Thaddeus Barnette (USA); The Journey - Directed by Launa Buettell (USA); Rust Belt Renaissance - Directed by Mike Ramsdell (USA).
Social Awareness Documentaries:
These films cast a light on current and compelling issues meant to raise social awareness. These films include:
21 and Done - Directed by Kiara C. Jones, Jocelyn Scott (USA); Alone in the Game - A film by David McFarland, Directed by Natalie Metzger, Michael Rohrbaugh (USA); California's Forgotten Children - Directed by Melody C. Miller (USA); Minding the Gap - Directed by Bing Liu (USA); Moving Stories - A film by Rob Fruchtman, Cornelia Ravenal, Mikael Södersten, Wendy Sax (India, Iraq, Jordan, Korea, Republic of, Romania, USA); Mr. Fish: Cartooning From The Deep End - Directed by Pablo Bryant (USA); My Country No More - Directed by Rita Baghdadi, Jeremiah Hammerling (USA); Overdosed - Directed by Mary Sue Connolly (Ireland, USA); Silicone Soul - Directed by Melody Gilbert (USA)
Short Documentaries:
This category includes films on any subject matter with a length of less than 40 minutes. These films include:
Aloha for This Place - Directed by David Jackel (USA); Baby Boy A - Directed by Pete O'Hare (USA); The Blockchain and Us - Directed by Manuel Stagars (Switzerland); Break Boundaries - Directed by Egon Feiner (USA); Connection in Crisis - Directed by Dennis Zaidi (USA); The Curators - Directed by Stefan Matis (USA); Death Metal Grandma - Directed by Leah Galant (USA); Enough: The Empowered Women of Korogocho - Directed by Brent Foster (Canada, Kenya); For the Love of the Reef - Directed by Alan E. Franks (Australia); Front Yard Players - Directed by Cooper Young (USA); From Haarlem to Harlem - Directed by Barbarella Fokos, David Fokos (USA); Ghosts of the Arctic - Directed by Abraham Joffe (Australia); The High Sierra Trail - Directed by Chris Smead (USA); Hoan Alone - Directed by Aaron Johnson (USA); The Kaleidoscope Guy at the Market - Directed by Russell Brown (USA); The Light - Directed by Tracy Pion, Michael Blum (USA); Lotte that Silhouette Girl - Directed by Elizabeth Beecherl, Carla Patullo (USA); M1-KØ - Directed by Fahad Shaikh (United Arab Emirates); Mr. Connolly Has ALS - Directed by Dan Habib (USA); Mrs. Schneider - Directed by Michael Matheson Miller (USA); My Grandfather's Memory Book - Directed by Colin Levy (USA); My Paintbrush Bites - Directed by Joe Egender, Joel Pincosy (USA); A New Chance - Directed by Sophia Silverman (USA); Prince's Tale - Directed by Jamie Miller (USA); The School of Honk - Directed by Patrick Johnson (USA); Spraying Under the Stars - Directed by Claire Cai (USA); tomnoddy - Directed by Charles Poekel (USA); Washed Away - Directed by Dana Nachman (USA); Zebrafish - Directed by Jennifer Manner (USA).
About the Chagrin Documentary Film Festival:
The Chagrin Documentary Film Festival is presented by Fevered Dreams Productions, a non-profit, 501(c)3 organization dedicated to empowering filmmakers to tell their stories.
Cash awards totaling $15,000 will be presented to the winning film's directors, including $5,000 to the overall David Ponce Best of the Fest winner. The top Emerging Filmmaker will claim $2,500 in prize money. All other category winners will each take home $1,000.
The Chagrin Documentary Film Festival is made possible by grants from Ohio Arts Council, Cuyahoga Arts and Culture and the Cleveland Foundation. Generous support is also received from: Presenting Sponsor: Cohen & Company; Platinum Sponsors: Chagrin Valley Chamber of Commerce, Miller Canfield Paddock and Stone, PLC; Gold Sponsors: Chagrin Valley Times, Sequoia Financial, Jones Day, Wells Fargo Advisors; Silver Sponsors: Carnegie Investment Counsel, David Mendelson Law, KeyBank, National Council of Jewish Women/Cleveland, South Franklin Circle. Spotlight Sponsors:Automated Packaging Systems,Chagrin Valley Rotary Club, Cleveland Jewish Federation/ Israel Arts Connection, Falls Communications, FTI Consulting, Lowes Greenhouse, Sky Quest LLC, Supporting Sponsors: Chagrin Falls Popcorn Shop, Cleveland Clinic, Elk & Elk, First Federal Lakewood, Greater Cleveland Film Commission, Hamlet Village Retirement Community, Junction Auto Family, Lowes Greenhouse, Florist & Gift Shop, Peppertree Capital, Watterson & Associates, Inc. Generous in-kind support provided by: BG Video, Blackbox Venues, Bull & Bird Steakhouse,Cleveland Cinemas, Cleveland Whiskey, Hotcards, Neverbounce, Vincent Lighting Systems, AC Hotels, Home2 Suites, Hotel Indigo, Digital Alchemy, Jekylls Kitchen,Chef Art Pour Group/ M Italian , Rock the House Entertainment, Tom's Foolery, Vintage Wine. Community Partners:Chagrin Falls Township Hall, Chagrin Falls Exempted Village Schools, Chagrin Falls Village, Chagrin Valley Jaycees,The Federated Church, Great Lakes Brewing Co., Ideastream, The Inn at Walden, The Robert Halliday Co., OWOW Radio, True Vision Marketing, Chagrin Falls Historical Society, Valley Art Center.
For more information, contact: Chagrin Documentary Film Festival at 440-247-1591 or at info(at)chagrinfilmfest.org.