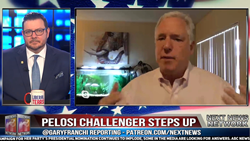 Nancy Pelosi doesn't want the Biden family to get investigated, because the media opens up the door to the Pelosi family being investigated.
SAN FRANCISCO (PRWEB) November 26, 2019
Nancy Pelosi's congressional competitor John Dennis spoke to The Next News Network anchor Gary Franchi on retiring Nancy Pelosi and over-taking her district. While Pelosi focuses on leading the sham Impeachment Inquiry in her "terrifying desire for power", she seems to be "willing to let her district fall into disrepair". As she suppresses the President's agenda, John Dennis is prepared the take over her position and bring San Francisco back to a clean, thriving, and quality city.
While speaking on his winning strategy on Next News Network, Dennis brought up what may be one of Pelosi's many weak spots, the glaring evidence that she has used her political position to further the career and lives of her family members. Dennis stated "Nancy Pelosi doesn't want the Biden family to get investigated, because the media opens up the door to the Pelosi family being investigated. She's got kids, they've got careers that may have been helped by Nancy Pelosi...that's something that someone ought to maybe take a look into." He goes on to say "It's pretty evident that if the Bidens were succeeding, or thriving, given the political position, then maybe that might be something the Pelosis were taking advantage of as well." Dennis went as far as to say "I've got some suggestions even, where some might want to look."
About The Next News Network
The Next News Network is your most trusted liberty media channel for news and original commentary on US Elections, Constitutional issues, government corruption, geopolitics, global conflicts, the US economy, and national headlines. The Next News Network is anchored by Executive Producer Gary S Franchi Jr. With over 1.27 million subscribers, and nearly 1 billion views on YouTube, The Next News Network has provided unique insight to viewers around the world since is founding in 2012.
About John Dennis
John is not your typical candidate. Born in Jersey City, he grew up in one of that town's toughest public housing projects. John saw firsthand how crime, homelessness, and drugs can break down the fabric of a community. John's parents, his father a longshoreman and mother a city hall clerk and Democratic Committeewoman, instilled in him a sense of pride in hard work and community. John Dennis is an American success story. From public housing to Pacific Heights, the accomplishment, wisdom, and experience of John's journey are what San Francisco needs to shake up Washington DC. John, his wife Heather and their daughter Devan live in their dog Augie's house in Pacific Heights. John has been a San Francisco resident for 27 years. He is the only candidate with housing expertise, having actually been through the development process in San Francisco.