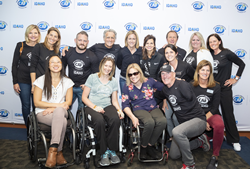 "We celebrate athletes with physical challenges of all ages and levels as Heroes of Sport and our work drives the common spirit that all athletes share."
BOISE, Idaho (PRWEB) May 10, 2019
The Challenged Athletes Foundation (CAF), which in its 25-year history has helped thousands of athletes with physical challenges gain access to sports worldwide, will collaborate with local community partners in Idaho through a variety of programs including funding grants for adaptive sports equipment, camps, clinics, training and competition expenses. A special event on Tuesday, May 7 included opening remarks from the leaders of this exciting initiative, the introduction of challenged athletes in Idaho who are receiving grants, and comments from key community partners in this regional effort. Nationally and internationally renowned Paralympians, Olympians and professional athletes joined in celebration of Idaho's challenged athlete community.
"The ability to bring the power of sport through this focused effort in Idaho is a unique milestone for our athletes, supporters and friends, and we look forward to growing this incredible community that has positively impacted so many lives," said CAF Chief Executive Director Virginia Tinley. "We celebrate athletes with physical challenges of all ages and levels as Heroes of Sport and our work drives the common spirit that all athletes share. Heroes of Sport share a belief that sports make us whole and we support our heroes in pursuing their athletic goals with the right equipment, community, coaching and programs. We look forward to growing these dreams in Idaho."
CAF-Idaho will fund an initial 15 individual grants to provide support for adaptive sports equipment, training and competition expenses to individuals with physical challenges. These athletes reside in all corners of the state of Idaho and participate in a wide variety of sports from alpine skiing, wheelchair basketball and cycling, to rock climbing, track and field, triathlon and wheelchair rugby. Without this critical funding, participation in sports would be unattainable due to insurance practices that rarely cover these items and the high cost of adaptive equipment required to get in the game. In addition, CAF will look to expand their Operation Rebound (for injured veterans and first responders) and mentorship opportunities across the state of Idaho.
CAF Idaho Lead Ambassador and CAF National Spokesperson Willie Stewart has helped create the vision for the Idaho region. "There is endless opportunity to build bridges across the adaptive sports landscape in Idaho," said Stewart. "I live my life with the intent to show what's possible – I don't know any other way – and to be able to help grow this regional initiative and bring more challenged athletes, supporters, and partners into the fold of this community is something I've been wanting to do since I first moved to Idaho in 2008. Pushing people to recognize their true potential is at the heart of what CAF-Idaho will do, and I have no doubt it will ultimately build a stronger community."
Unique to this regional initiative, CAF-Idaho is introducing a year-round grant program for eligible individuals with physical challenges to apply for adaptive sports equipment, training and competition expenses.
Community partners are an essential component to the work CAF will be doing in Idaho. The J.A. and Kathryn Albertson Family Foundation has played an integral role in making this initiative possible. "We have seen through a variety of our initiatives and partnerships how sports are a platform to help someone live their best life and we are committed to helping build a supportive athletic community here in Idaho through the work of the Challenged Athletes Foundation," noted Roger Quarles, J.A. and Kathryn Albertson Family Foundation Executive Director.
Many of the community partners that will be collaborating with CAF in this regional initiative were on-hand at the launch event to help present inaugural CAF-Idaho grants. Some of these partners include Boise Parks and Recreation, Higher Ground, Mission43, and the Treasure Valley YMCA. Bob Babbitt, CAF Co-Founder and Chief Storyteller emceed the event and shared the history of the organization and the vision for what will be achieved through the work in Idaho.
CAF grant partners support athletes with equipment and services to ensure they are properly fitted for the right equipment – Össur - Global Prosthetics Partner, YMCA, PER4MAX, Box, Vesco, Top End, Melrose and Eagle Wheelchairs. For more information about CAF and its programs, visit challengedathletes.org.
CAF-Idaho Athlete Spotlights:
Name: Cash Taylor, Rexburg
Sport: Wheelchair Basketball
Grant: Max Thunder Basketball Wheelchair
Bio: Even at the young age of 8, Cash Taylor is described as a hard worker, looking to excel in everything he sets his sights on. Living with Spina Bifida has made this trait especially useful in Cash's everyday life. His parents have sought to provide him every opportunity to grow up as a normal kid, and this includes the opportunity to play sports- something Cash has shown interest in since before he could talk. As lifelong athletes, Cash's parents both know the value of sport and the important role it plays in life. His father set up a basketball hoop in the driveway and watched as his son fell in love with the sport. He states that if allowed, Cash would live outside on the driveway, practicing in the sun, rain, or even snow. Cash has attended multiple basketball wheelchair camps, often the youngest on the court. He has never owned his own basketball wheelchair, and his parents know that the key to his development as a player is an adaptive chair of his own. CAF has granted him his own Per4Max Thunder Basketball Wheelchair, which will allow Cash to excel in the sport he loves.
Name: Catherine "Annie" Carey, Boise
Sport: Track & Field
Grant: Competition expenses for Desert Challenge Games
Bio: Catherine "Annie" Carey was born in China with a severe club foot. She was adopted by her forever family and immediately underwent serial casting and surgery to correct the abnormality. While the procedures successfully fixed Annie's club foot, they resulted in drop foot and nerve damage. It was determined that for Annie to have a healthy and physically active lifestyle, she would have to wear an Ankle Foot Orthosis. At the age of seven, Annie watched the London Olympics and was inspired by Oscar Pistorius. This began her quest to one day make it to the Paralympics herself. She started training at the Tri Club at the Treasure Valley YMCA, in Boise with One Arm Willie as her Coach and receiving her first CAF grant. Since her start with the Tri Club, Annie has gone on to successfully compete in multiple Triathlons, Track & Field events, and swimming competitions. She has attended CAF's Youth Paratriathlon camp twice and has proven herself a force to be reckoned with. Underneath Annie's quiet personality is a fierce competitor who is hardworking, dedicated and determined. She believes that she will podium one day, and CAF is behind her all the way.
Name: Josiah Sullivan, Nampa
Sport: Wheelchair Rugby
Grant: Melrose Rhino Rugby Defensive Chair
Bio: Two months after graduating high school, Josiah was in a car accident that broke his neck. Since then, he has been determined to live life to the fullest with quadriplegia. Josiah enjoys camping, participating in half marathons, and playing wheelchair rugby as the captain of the Boise Bombers wheelchair rugby team. When he hears someone say, "you can't do that," it's his goal to prove that he can. He coached high school lacrosse for 5 years while working on a college degree and graduated from Boise State University in 2014. He is now focused on motivational speaking, and inspiring students to overcome life's struggles. CAF is granting Josiah a new rugby chair to help him accomplish his athletic goals and improve his play on the court with properly fitted equipment.
Name: Jesse Keefe, Bellevue
Sport: Alpine Skiing
Grant: Coaching/Training epxenses for skiing
Bio: While 14-year-old Jesse considers himself a multi-sport athlete, his true love is found on the slopes. Jesse has been skiing since the age of 2, and this below-knee amputee from a small town in Idaho has big dreams to one day compete in the Paralympics. While his desire and drive are not lacking, the financial burden of this expensive sport is a hinderance to Jesse's dreams. This first-time grantee now has the support of CAF so that he can keep his sights set on the tallest mountains ahead.
Name: Mike Duke, Boise
Sport: Yoga
Grant: Coaching/Training expenses for yoga
Bio: In 2004, Mike contracted a flesh-eating bacteria during Marine Corps Training (MCT) that put him in a 10-day coma and destroyed the entire left flank of his upper body. The extensive damage caused by the infection not only ended his career in the Marine Corps, but resulted in the amputation of his left arm above the elbow. A lifelong athlete, Mike did remain committed to living an active lifestyle after his amputation, though he found it difficult at times. He has been a recipient of multiple Operation Rebound grants for many years and for many different sports. Operation Rebound's support has helped him stay focused on his health and has given him renewed confidence. Mike works in the benefit regional office in the Vocational Rehabilitation Division at the Boise VA and is a husband and father.
About Challenged Athletes Foundation – Idaho
The Challenged Athletes Foundation® (CAF) is a world leader in helping people with physical challenges lead active, healthy lifestyles. CAF believes that participation in physical activity at any level increases self-esteem, encourages independence and enhances quality of life. Since 1994, more than $110 million has been raised and over 26,000 funding requests from people with physical challenges in all 50 states and 70 countries have been satisfied. Additionally, CAF's outreach efforts impact another 60,000 individuals each year. In 2019, CAF launched a new initiative (CAF-Idaho) to provide Idahoans with physical challenges further access to sports. Whether it's through adaptive sports camps and clinics, a $2,500 grant for a handcycle, helping underwrite a carbon fiber running foot not covered by insurance, or arranging enthusiastic encouragement from a mentor who has triumphed over a similar challenge, CAF's mission is clear: give opportunities and support to those with the desire to live active, athletic lifestyles. To learn more, visit challengedathletes.org/idaho.