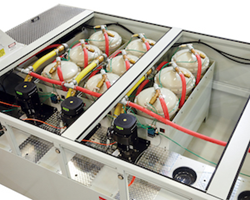 Having temperature controlled oil filtered to one micron "absolute" enables machines to stay in the cut longer, substantially reducing cycle times.
ELK GROVE VILLAGE, Ill. (PRWEB) September 02, 2020
Transor Filter USA announced that they shipped a specially designed V-18 Series modular filter to a prominent aerospace contractor. The V-18 unit will furnish those machines with a continuous supply of chilled, temperature controlled oil required for the application.
Aerospace applications require the EDMs to make multiple, intricate and precision cuts in each component. Having temperature controlled oil filtered to one micron "absolute" enables the machines to "stay in the cut" longer, thus reducing cycle times substantially. Clean oil from the V-Series also helps to prevent arcs and pits that can cause re-works.
While this unit has all the standard features of a Transor V-Series unit, it also contains pumps for both fast filling and circulation of the worktank along with pressure flushing. While typical V- Series models have an integrated chiller unit, this special unit features a "free standing" chiller. Like all Transor filters, maintenance is virtually eliminated because of the filters' self-cleaning elements, which have a life expectancy of 25,000+ operating hours. Sludge removed during the self-cleaning process is deposited to a 55-gallon drum via a dragout.
A Unique, Expandable Design
Transor's V-Series provides another option along with Transor's smaller, modular models. Designed specifically for growing businesses, the heart of the system is a filter module that consists of three filter vessels, filter pump and required plumbing.
When needing to expand, simply add another filter module to accommodate additional machines. The unit's internal electrics are already in place so connecting the additional machine tools is simple and requires no downtime.
The V-18 recently shipped was outfitted with six filter modules to handle the dirt load and deliver One Micron Filtration (OMF) oil to multiple EDMs. This model is configured with two additional filter module "slots" for expansion.
While the V-18 unit was designed for this specific aerospace application, Transor's V-Series includes other models of various sizes that are available for any EDM sinker applications.
For complete details, contact Transor Filter USA; 515 Busse Road, Elk Grove Village, IL 60007; 847.640.0273, FAX: 847.640.0793 or email info@transorfilter.com
ABOUT TRANSOR FILTER
Transor Filter is a world leader in providing filtration solutions for a variety of manufacturing applications such as grinding, honing, lapping, super finishing and EDM. In addition, Transor manufactures a complete line of high performance EDM dielectrics and grinding oils. Over 18,000 Transor units have been installed in over 30 countries. Transor has offices in the US, Latin America, Europe and Asia providing sales and service.