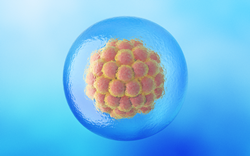 "I'm encouraged for women and what this means for how we treat endometriosis. Along with advancements that we continue to make across the board, this study should encourage women with endometriosis that it's very possible to build their family with the right treatment and timely care."
WASHINGTON (PRWEB) October 16, 2019
Folklore, mommy forums, and even the medical community have long touted the notion that women suffering with endometriosis do not have the same success using fertility treatments, such as in vitro fertilization (IVF), as other women or couples. However, new research from Shady Grove Fertility (SGF), conducted in partnership with the National Institutes of Health's (NIH) National Institute of Child Health and Human Development (NICHD), has shown that, in fact, endometriosis may not negatively impact chances of delivering a baby with IVF treatment.
Presented this week at the 75th Annual American Society for Reproductive Medicine Scientific Congress and Expo in Philadelphia, this new study gives hope to women diagnosed with endometriosis. According to the American College of Obstetricians and Gynecologists, 10 percent of women have endometriosis and almost 40 percent of women with infertility have endometriosis.
SGF's Director of Research, board certified reproductive endocrinologist, Kate Devine, M.D., who sees patients in SGF's Washington, D.C., K Street location explains the concept behind the study, "We wanted to understand whether endometriosis, which may decrease a couple's chances of conceiving naturally, also decreases their chances of having a baby from IVF, as many believe. Furthermore, we wanted to understand 'why'. Was it that these women didn't have the same rate of genetically normal embryos? Or that they have impaired endometrial receptivity preventing them from achieving or keeping a pregnancy?"
This retrospective study looked at 472 frozen embryo transfers in SGF patients using chromosomally normal blastocysts (as shown by preimplantation genetic testing for aneuploidy [PGT-A]). Three subsets of patients were included: women with surgically proven endometriosis, patients with isolated male factor infertility, and non-infertile patients electing genetic testing for a single gene disorder. The male factor infertility and single gene groups of patients were selected for comparison, as they typically yield strong pregnancy and delivery rates using IVF and because neither egg nor uterine infertility factors were likely to be present.
The results from the study showed that women with endometriosis had statistically similar rates of pregnancy and live birth compared to the other groups. Further, when patients with endometriosis were compared to each control group, there was no difference in the number and frequency of chromosomally normal blastocysts with PGT-A.
"We are excited to see that even though women with endometriosis may have impaired fertility, their diagnosis is not limiting them in their success with IVF treatment," shared Dr. Devine. "Patients can be reassured that their chances of a live birth are good when a euploid blastocyst is available."
"I'm encouraged for women and what this means for how we treat endometriosis. Along with advancements that we continue to make across the board, this study should encourage women with endometriosis that it's very possible to build their family with the right treatment and timely care," adds Devine.
About Shady Grove Fertility (SGF)
SGF is a leading fertility and IVF center of excellence with more than 85,000 babies born and counting. With 36 locations throughout FL, GA, MD, NY, PA, VA, D.C., and Santiago, Chile, we offer patients individualized care, accept most insurance plans, and make treatment affordable through innovative financial options, including treatment guarantees. More physicians refer their patients to SGF than any other center. Call 1-888-761-1967 or visit ShadyGroveFertility.com.